Breadcrumb navigation tracking allows users to follow a pre-loaded GPX route on the COROS watch when training or racing in unfamiliar locations. Real time information on heading, elevation and alerts are available to help users stay on track and get back on course if a turn is missed.
Navigation features are available on the following models and workout modes.
COROS models:
COROS PACE 2
COROS PACE 3
COROS APEX
COROS APEX Pro
COROS APEX 2
COROS APEX 2 Pro
COROS VERTIX
COROS VERTIX 2
Workout modes:
Run
Trail Run
Mountain Climb
Hike
Bike
Navigation settings on COROS watches
On the supported workout modes, select Settings and then select Nav. Settings.
Navi. Settings
Select to change navigation related settings.
Select one route to navigate among the stored routes on the watch.
Start Course

Select to begin the workout in navigation mode.

Elevation Details

Select to preview the elevation details for this route including total ascent/descent, max elevation and distance.

Start Point Direction

Select to choose the start point for this route.

Map Direction

Select to choose the heading of the navigation mode between true north up or heading up.

Deviate Course Alert

Select to enable or disable the off-route alert. Once enabled, the watch will alert you every minute if you remain deviated from the route.
Use the navigation features on COROS watches
Once Start Course is selected, you will enter the navigation page. The starting location and your current location are marked separately on the page. Head to the starting location and follow the route. If you are deviated from the route for 20 meters / 65 feet and over 10 seconds, the off-route alert will kick in. If you can't get back on course soon, the off-route alert will be triggered every minute.
Viewing mode
On the navigation tracking page, press the dial once to enter the viewing mode. A small +/- sign will show up on the right-hand side of the page. You can then zoom in/out by scrolling the dial. Press the BACK/LAP button to reset the scale to 100 feet or 25 meters.
COROS APEX Pro, APEX 2, APEX 2 Pro, VERTIX, and VERTIX 2 users can touch and drag the route on the screen to easily preview the rest of the route.
To exit the viewing mode, press the dial once. The +/- sign will also disappear.
You can scroll the dial to change the data pages only when you are not in the viewing mode. Press the dial on any other data pages except the navigation and elevation profile pages to pause the workout.
The watch will have a green arrow on all other data pages except the navigation and elevation profile pages. The arrow signifies where the trail is on the map in relation to your current location.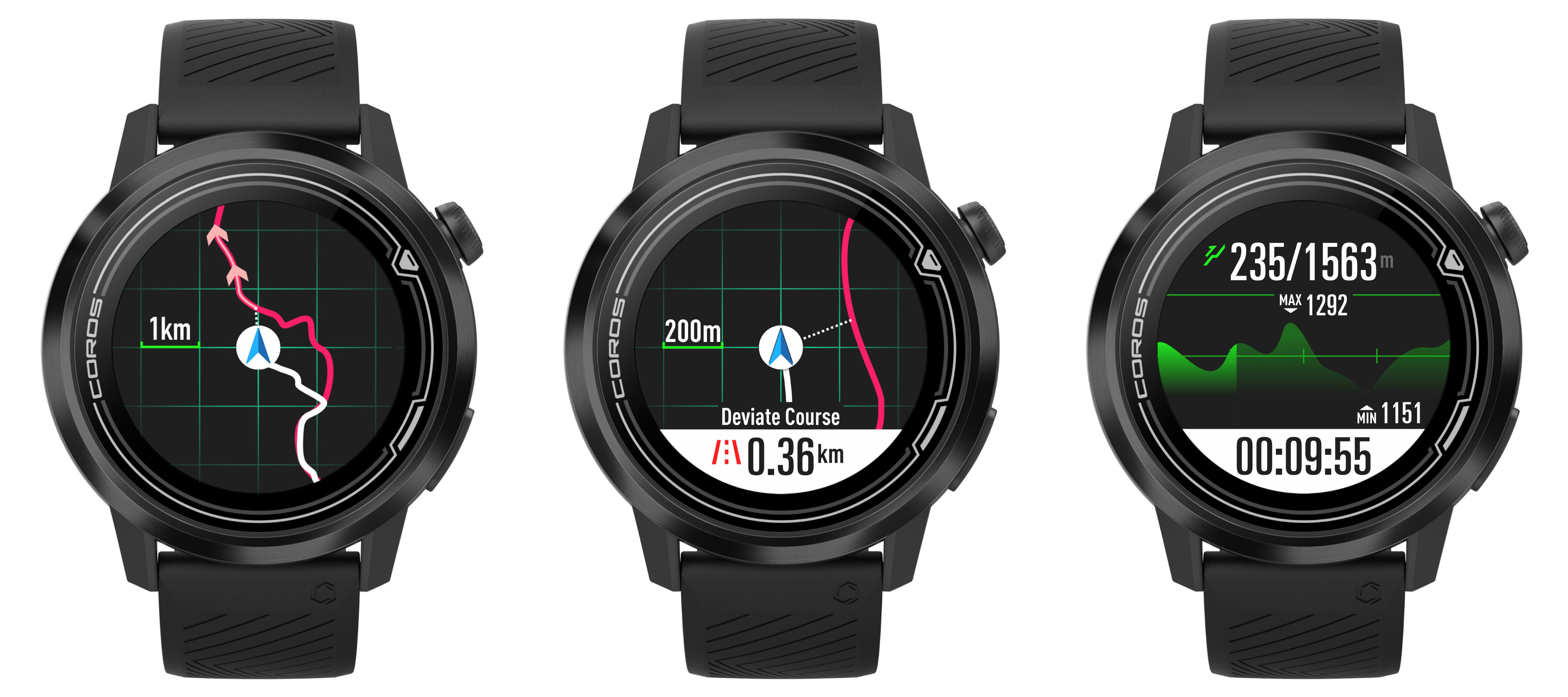 Checkpoint
Visit this blog for detailed information on checkpoint features.