Add a new device and manage existing devices on this page.
Add a new device
Tap on "Add New Device" and select your device on the list.
Scan the QR code displayed on the watch from your phone to connect.

To open the QR code page on your watch: main watch face > System > Pair Phone.
You can also tap on "pair COROS watch manually" without scanning the QR code.

Read the instructions, customize the settings and complete the pairing process.
The device will then be added to the Device page with additional settings and options available for setup.
Manage an existing device
You can customize various settings and options on your COROS device from the Device page.
The 6-digit device ID is listed below the device name.
Tap on the device image to open a page with settings.
Do Not Disturb Period
Do Not Disturb mode allows you to mute all push notification alerts on your COROS watch. However, you can still receive and view new notifications in the Notification widget from the main watch face. If you wish to disable notifications at all, please disconnect the Bluetooth connection on your phone or modify the notification settings on the COROS app.
During DND period, your COROS watch automatically enters DND mode.
Reset
You can reset your COROS watch on the COROS app to the factory default settings. Workout and activity data synced to your COROS account will not be affected by the reset.
You can also reset on the watch: main watch menu > System > More Settings > Reset.
Remove
Follow the steps below to remove your COROS device from the COROS app.
Remove the device on the COROS app.
Go to the Bluetooth setting page on your phone and delete/forget the device.
Remove the watch from the app if you have Bluetooth connection issues or want others to use your watch.
Workout Data
You can modify data pages for each workout mode except the Triathlon, Multisport and Ski Touring modes. These modes use the current settings of the respective workout modes.
COROS watches can display up to 6 different data pages during workouts. Tap onto the data pages to select from 5 layouts and over 40 data fields.
Watch this how-to video to learn more about data page setup on your COROS watch.
Customization
You can choose to display/hide and rearrange the order of workout modes and toolbox menu items. Hidden modes and items can be accessed from "More..." on the watch.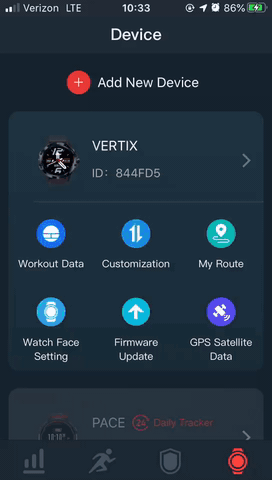 My Route (available on COROS PACE 2/PACE 3/APEX/APEX Pro/APEX 2/APEX 2 Pro/VERTIX/VERTIX 2)
You can manage navigation routes for your supported COROS watch on this page. Up to 10 routes can be stored on your watch. Tap "Import from Library" to select and add routes saved on the COROS app under Navigation Routes Library.
Swipe left to delete routes.
COROS watches support standard GPX file type. All other GPX file types may not work on the COROS app or on your watch. Please make sure there is sufficient elevation data on the file. It is recommended to utilize Strava Route Builder or download routes from Strava. Watch this how-to video for additional instructions on route import and navigation functions.
Click here for more details about breadcrumb navigation features.
Watch Face Setting
Choose and download new watch face options on this page. COROS releases new options regularly for all watch models. Watch this how-to video for more instructions.
The default watch face on the COROS PACE watch is not available on this page and can't be downloaded.
Notifications
Manage the push notifications for your COROS watch on this page. Choose the apps you want to receive and display notifications on your watch. If the app isn't listed as a default option on this page, please enable "Other" option.
COROS APEX Pro/APEX 2/APEX 2 Pro/VERTIX/VERTIX 2 users can access this page by tapping on the watch image.
If you can't receive notifications on your COROS watch, please follow the steps below.
Ensure that your phone isn't on Sleep or DND mode.
Ensure that your COROS watch isn't on DND mode.
Ensure the Bluetooth connection is established.
GPS Satellite Data
GPS satellite data is required for a fast GPS acquisition time on COROS watches. It is highly recommended to download GPS satellite location data and send to your COROS watch prior to workouts. Once the latest data is stored on your COROS watch, it will remain valid for 3 to 7 days depending on the watch model.
You will be notified when GPS satellite data stored on your COROS watch is about to expire. Sync your watch with the COROS app usually updates this info automatically. Occasionally you may need to manually update this by tapping on this option. If you travel over 200 miles / 322 km away from the last satellite connection, please manually update this info.
When this data expires, the GPS signal acquisition time may take substantially longer and over 2 minutes. If your outdoor workout is started without successfully acquiring the GPS signal, the GPS tracking and other workout data will be severely affected.
Firmware Update
If a new firmware version is available, you will notice a popup message or a red dot on the Device page. Tap on "Firmware Update" to download and update the firmware on your COROS device. Keep your COROS device and smartphone in Bluetooth range. Don't close the COROS app during the update process.
If there's no firmware available for your device to update, please check and update the COROS app on iOS App Store or Google Play Store.
If you receive a popup message "Update failed. Please try again.", tap on "Try again" to restart the update. Normally it will resume from the last saved progress. This is not uncommon during the update process as the device is installing software updates that may interrupt the Bluetooth connection.