You can easily access widgets from the main watch face by scrolling up and down. Press the CONFIRM button on certain widget pages for additional information.
NOTE: you can't open the main menu from widget pages. Return to the main watch face first.
This widget displays the following info after you have fulfilled the initial requirements to receive EvoLab metrics. Click here if you don't receive EvoLab metrics after training for a while.
Recovery Timer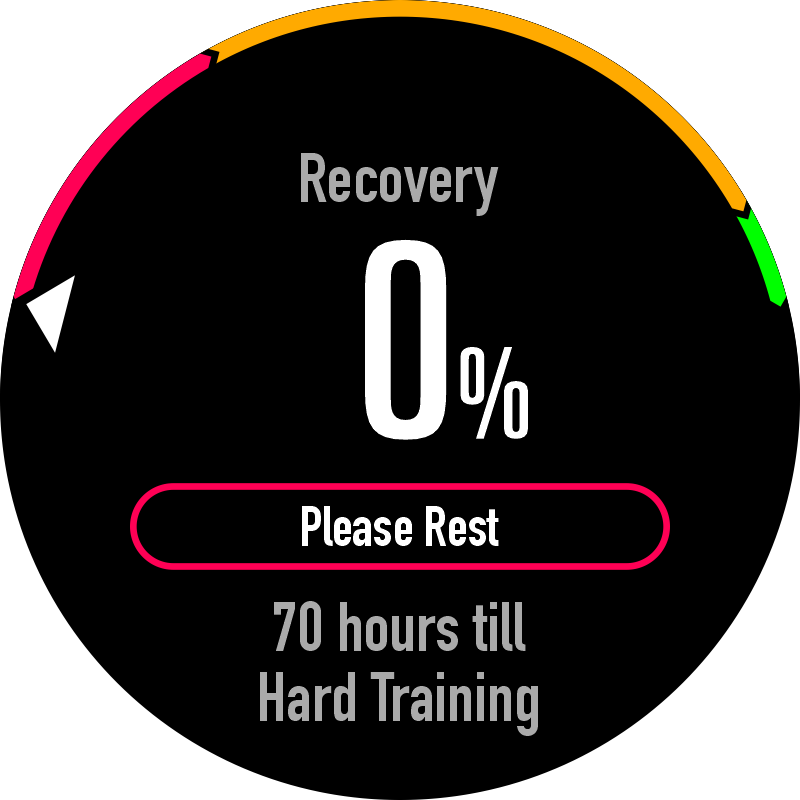 To get the best improvement to your fitness, you will have to train with fatigue, but training when you are too tired can easily lead to injury. After each training, the recovery timer provides feedback on the time needed to receive full recovery and suggests when you are ready for easy or hard training based on your marathon level, training load, running performance, and remaining recovery time. It's straightforward to use – stop and take a rest when you are in the red zone, start mild training when in the yellow zone, and resume a high training load when you are back in the green zone. The more you train with your COROS watch, the more accurate feedback it will give you as EvoLab keeps learning your fitness data.
Currently, the countdown is designed to be used during a training block with a maximum recovery time set to 96 hours or 4 days. Don't be surprised if it tells you that you are ready to train hard again in a few days after a 100-mile race as most people will take an extended recovery following a goal race or completed training block. Please listen to your body, take enough rest, and start using the recovery timer again when you are ready to kick off a new training session.
0% - 29%: Please rest

30% - 89%: Ready for easy training
90% - 100%: Ready for hard training