The COROS EvoLab Race Predictor is a tool that analyzes your run data to provide an estimate of how fast you are likely to run a race. To view the Race Predictor, please visit the Profile page within the COROS app. It is required that you first "Unlock" EvoLab to access the Race Predictor, as it is necessary to have a quality baseline and sufficient data collected in order to estimate race times. Please refer to "Tips for Unlocking EvoLab" if you have any questions on how to do so.
The Profile Page on the COROS app displays information such as "VO2 Max, Threshold Pace, Threshold HR" and more. At the bottom of this page, you will find the EvoLab Race Predictor. As mentioned, the Race Predictor tool aggregates your data from the previous six weeks, analyzes your efforts, then calculates a comprehensive estimate of your estimated race pace for the following distances: 5k, 10k, half-marathon, marathon. At this time, only the "Run" activity influences your Race Predictor. Trail Runs, Hikes, or other activity modes will not impact your Race Predictor.
The two inputs that have the most impact on your Race Predictor are heart rate and pace. Also included in the analysis are key measurements like VO2 Max, lactate threshold zones, running efficiency, and recent running performance. Threshold Pace and Threshold Heart Rate are estimations of an effort you can sustain for anywhere from 20-90 minutes.
Using all of these data points, the Race Predictor algorithm calculates at what effort (heart rate) you can run a certain distance, in what time (pace).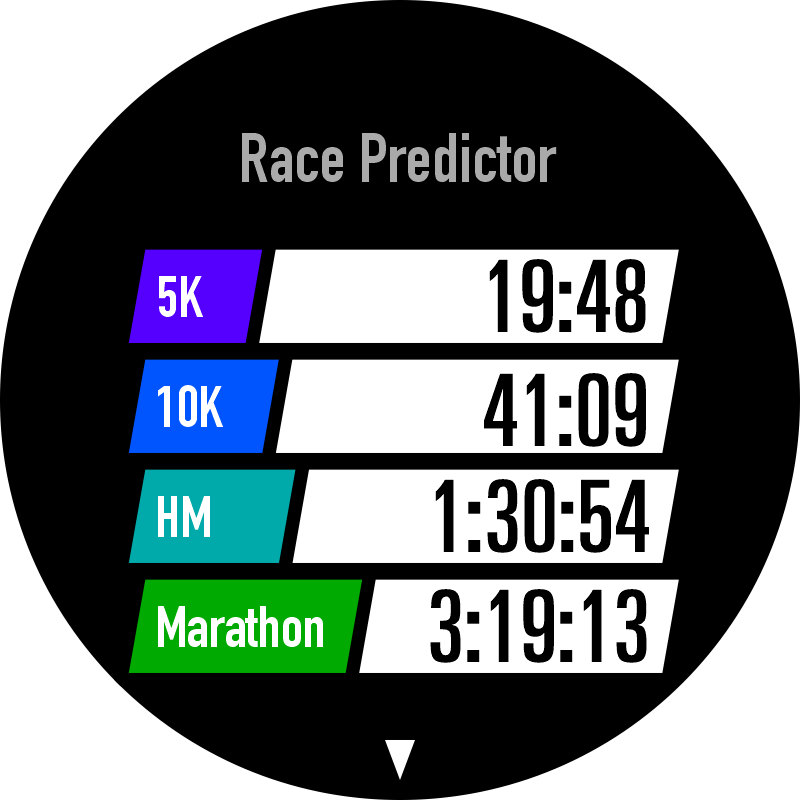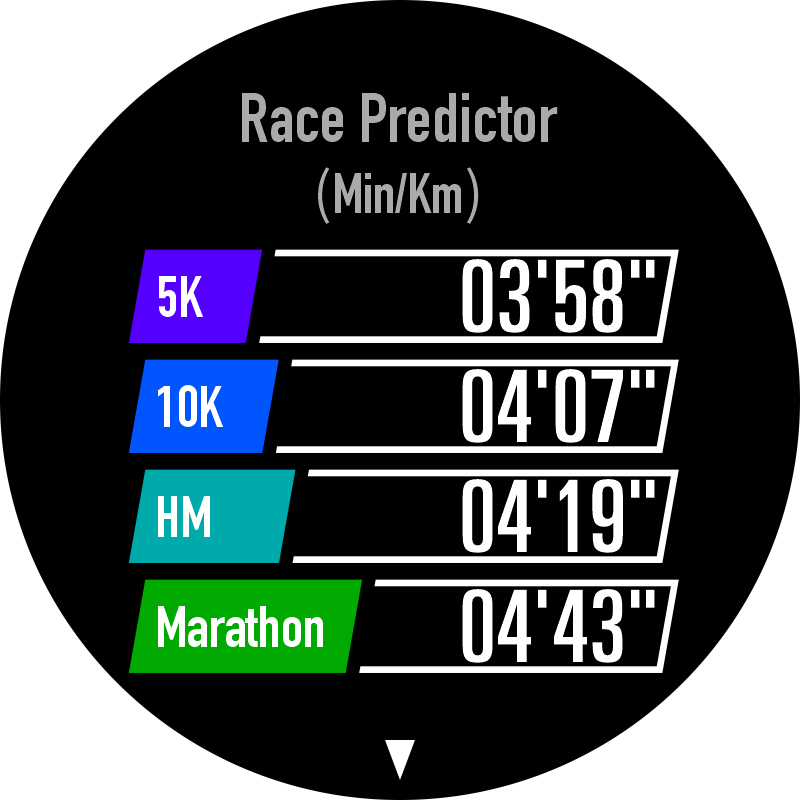 If you have met the initial EvoLab requirements, the "Marathon Level" metric will be available to view. Marathon Level is a rating showing your current fitness level on a scale of 0-100, with a 100 rating predicting a 2-hour marathon.
Beginner (0-40):

Completes a full marathon in over 5 hours.
Recreational (41-60):

Completes a full marathon between 4 to 5 hours.
Intermediate (61-70):

Completes a full marathon between 3.5 to 4 hours.
Advanced (71-80):

Completes a full marathon between 3 to 3.5 hours.
Elite (81-100):

Completes a full marathon between 2 to 3 hours.
The Race Predictor algorithms will build upon it's previous predictions as new data becomes available (more runs) to continue providing updated race predictions with every Run activity recorded. After recording a run, if your Marathon Level or Race Predictor times do not change, this simply means that your run fell within the already predicted times/level and did not make this go up or down, but reaffirmed that prediction.
On average, long runs will impact on the half-marathon and marathon distance more than shorter runs as these runs provide more data about your effort level during runs closer to the marathon distance. Long runs over 30k have a major impact on your marathon prediction while a 60-minute threshold pace run will mainly affect your 10k or half marathon estimates.

It is important to stress that quality heart rate data is a necessity for calculating accurate Race Predictor times. For example, if your heart rate is registering at 180bpm rather than 150bpm, your Race Predictor will think that you are working much harder to maintain that pace, leading to slower time estimations. We recommend that for those who are interested in creating the most accurate Race Predictor you pair your COROS watch with a bicep or chest heart rate monitor.
If you complete a run where you feel as though your recorded heart rate may not have been accurate, select the "Edit" option in the upper right-hand corner of your activity where you will have the ability to turn off the EvoLab analysis so that the selected run will not impact these measurements.
The race predictor estimation does not factor in external factors such as temperature, humidity, etc. If you are training at altitude or in hot/humid weather, you can expect to be able to run faster than your race predictor with more favorable conditions such as being at sea level or in cooler temperatures.
If you have run a race or time trial and want your EvoLab race predictor to reflect that race time, you also have the ability to edit this information from within the Race Predictor. You also may do this when initially collecting data with your COROS watch (after EvoLab is unlocked) to provide a more accurate estimate as you begin to collect data. The more data you have collected on runs, the more likely your Race Predictor is to be accurate. Please note that editing any one of the race times will impact all metrics.