*This feature is not available on the PACE/Decathlon GPS 500.
Calibrating the compass on your watch can be useful for various reasons, particularly when experiencing difficulties with Pool Swim activities or during navigation. Recalibrating the compass is a quick way to make sure that everything on the watch is working smoothly prior to starting new activities.
To calibrate the compass on your COROS watch, hold the back/lap button to open your Toolbox. From here select: System → Sensors → Calibration → Compass. Use the GIF below as a reference on how to complete the compass calibration successfully.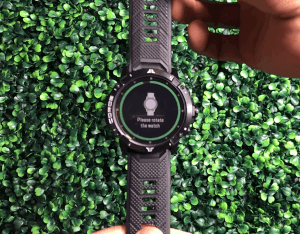 Please compare the compass on your watch to your phone's compass to ensure the calibration was successful.
**If you are unable to get the calibration to work, please ensure that all data is uploaded from your watch to the COROS app, then complete a reset of the device: Hold the BACK/LAP button to access your Toolbox → System → More Settings → Reset All**