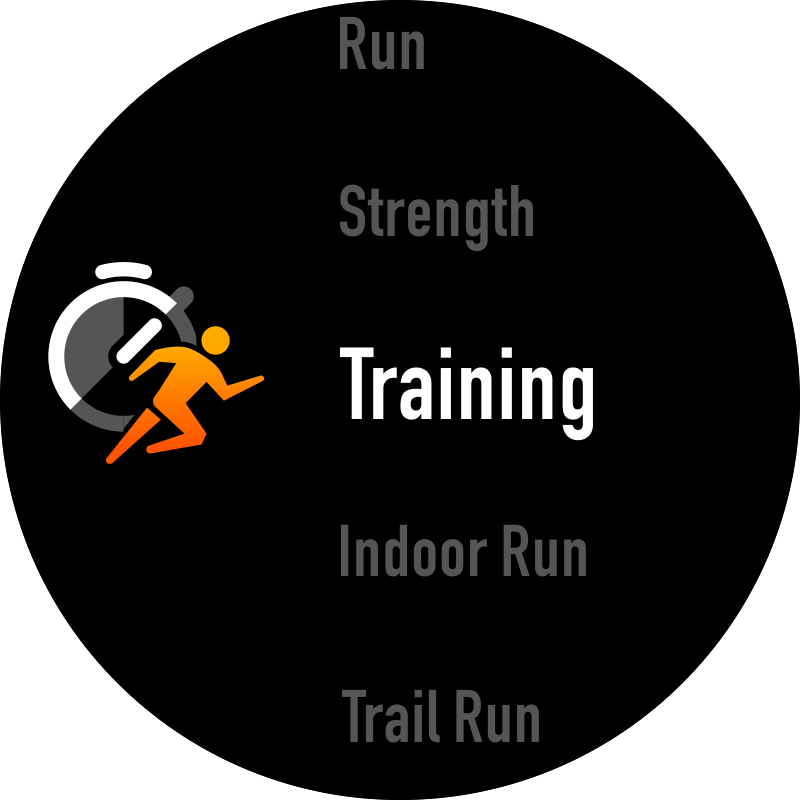 Bike - Bike activity mode on COROS watches is designed to record, track, and analyze data for your outdoor rides. When using Bike mode you will have the ability to follow interval workouts and set activity alerts. To view supported data types during workouts and further information, please visit:

https://support.coros.com/hc/en-us/articles/360040257531-Bike

To use Bike mode, press the digital dial and select "Bike". Please wait until the watch indicates that you have a strong GPS signal (indicated by an "Acquired" message at the top of the screen) and that heart rate is being measured (indicated by a heart icon at the bottom of the screen) before starting an activity.

GPS Cardio

- GPS Cardio activity mode on COROS watches is designed to record any activity outdoors where viewing GPS data (distance, GPS track, etc.) is necessary, but the activity does not fit into any other available modes. To view supported data types and further information, please visit:

https://support.coros.com/hc/en-us/articles/360039842192-GPS-Cardio

To use GPS Cardio mode, press the digital dial and select "GPS Cardio". Please wait until the watch indicates that you have a strong GPS signal (indicated by an "Acquired" message at the top of the screen) and that heart rate is being measured (indicated by a heart icon at the bottom of the screen) before starting an activity.

Gym Cardio - Gym Cardio activity mode on COROS watches is designed to record and analyze data for indoor workouts such as weight training, indoor sports, etc. To view supported data types during workouts and further information, please visit:

https://support.coros.com/hc/en-us/articles/360040257731-Gym-Cardio

To use Gym Cardio mode, press the digital dial and select "Gym Cardio". Please wait until the watch indicates that heart rate is being measured (indicated by a heart icon at the bottom of the screen) before starting an activity.

Indoor Run – Indoor Run activity mode is designed to use the sensors in your COROS watch to track treadmill runs. This activity mode automatically turns off GPS signal and relies on the internal sensors along with proper calibration and user input to measure your treadmill runs accurately.

(How to ensure proper distance tracking for indoor runs).

In this activity mode you will also have the option to set activity alerts. To view supported data types and further information, please visit:

https://support.coros.com/hc/en-us/articles/360039841712-Indoor-Run-Treadmills

To use Indoor Run mode, press the digital dial and select "Indoor Run". Please wait until the watch indicates that heart rate is being measured (indicated by a heart icon at the bottom of the screen) before starting an activity.

Open Water – Open Water activity mode is designed to be used for any outdoor/open water swims. This activity mode uses both GPS and the hardware in your watch to track distances, stroke rates, and more. Open Water activities will allow you to access activity alerts during your workout. To view further information, please visit:

https://support.coros.com/hc/en-us/articles/360040257611-Open-Water

COROS watches support freestyle stroke types in Open Water mode for accurate GPS tracking. Breaststroke, Backstroke, and Butterfly styles do not have guaranteed GPS tracking.

To use Open Water mode, press the digital dial and select "Open Water". Please wait until the watch indicates that you have a strong GPS signal (indicated by an "Acquired" message at the top of the screen) and that heart rate is being measured (indicated by a heart icon at the bottom of the screen) before starting an activity. To ensure the GPS tracking accuracy, please wait until you receive a confirmation from the watch about GPS acquisition before jumping into the water. Make sure to provide a substantial amount of time for the watch to stay out of water during your strokes as GPS signals cannot travel underwater.

Pool Swim – Pool Swim activity mode is designed to be used for swims where the pool is a set distance and you will be completing multiple laps across the pool. Pool Swim supports and automatically detects 4 major stroke types in Pool Swim mode including Freestyle, Breaststroke, Backstroke and Butterfly. You can easily change the pool length setting on the watch to meet your need. Distance is measured and detected when you make a turn. If you don't use a flip turn, please make sure to include arm movements that are substantially different than stroke movements during the turn. You will also be able to access activity alerts in this mode. To view supported data types and further information, please visit:

https://support.coros.com/hc/en-us/articles/360040257591-Pool-Swim

To use Pool Swim mode, press the digital dial and select "Pool Swim". Next, select the length of the pool (25m, 50m, 25yd, 33.3m, 33.3yd, Custom). Please wait until the watch indicates that heart rate is being measured (indicated by a heart icon at the bottom of the screen).

Run - The standard "Run" activity was designed to be used when running on paved or hard-packed roads with minimal elevation gain/loss. The "Run" activity mode is designed to work seamlessly with any downloaded workouts, training plans, or basic interval runs. "Run" mode also allows for you to access "Navi Settings" to help you navigate routes, add checkpoints, navigate "Back to Start" and more. In "Run" mode, you can access activity alerts. "Run" mode does impact your EvoLab metrics such as Threshold Pace, VO2 Max, etc. "Run" will give you an analysis of your run with a "Running Performance" metric. To view more information about EvoLab please see "

EvoLab Metrics

".

To use Run mode, press the digital dial and select "Run". Please wait until the watch indicates that you have a strong GPS signal (indicated by an "Acquired" message at the top of the screen) and that heart rate is being measured (indicated by a heart icon at the bottom of the screen) before starting an activity.

Track Run - Track Run activity mode is designed to accurately measure your laps and distance on tracks to give you the most accurate distance data and path. In this mode, you can specify which lane you are running in and your watch will automatically track your distance and laps on the track. This mode will use the first lap to identify that you are running on a track, and from the second lap on will use the track running algorithm to measure your activity. You can change the lane which you are running in during the workout and also will have the option to access interval mode, activity alerts, and this mode can be used in training plans.

To use Track Run mode, press the digital dial and select "Track Run". Next, specify which lane you will be running in on the track. Please wait until the watch indicates that you have a strong GPS signal (indicated by an "Acquired" message at the top of the screen) and that heart rate is being measured (indicated by a heart icon at the bottom of the screen) before starting an activity.

Triathlon - Triathlon mode is designed to be used for any workout or race that consists of 3 activities with 2 transitions. Simply press your watch's CONFIRM button to progress from one part of the triathlon to the next. By default, Triathlon mode is set to Open Water, Bike, and Run, but you can customize these three activity types and their order by choosing from Run, Bike, Open Water, or Pool Swim.

Activity alerts in Triathlon mode can only be customized by modifying the activity alerts on the individual activity modes themselves. For example, to change the alert for the Bike portion of the triathlon, please go to Bike mode on your watch and set the activity alert there.

Triathlon mode includes a transition between the first and second activities, and another transition between the second and third activities. If at any time you accidentally progress past the current activity and start the next transition prematurely, you can use your watch's BACK button to return to the activity.

To learn more about Triathlon mode, please visit: https://support.coros.com/hc/en-us/articles/360040257631-Triathlon

Walk -

Walk mode contains a new and unique data field: Steps. As the nature of GPS technology does not work well with walking activities, especially in the urban environment (due to speed, frequent stops, arm movements, etc.), steps will be a valuable tool to gain insight into your walking activities and provide the highest degree of accuracy available.

Walk mode can be used in both indoor and outdoor environments. In indoor conditions, the watch can estimate distance based on cadence and stride data. This mode defaults to 1,000 steps per "lap," but this number can be adjusted within the activity settings.
Workouts (Structured Programs) - Training mode is an easy shortcut to access your pre-designed training for the day. If an athlete has created a training plan or workout for a specific day, this task can be accessed through the training shortcut. When selecting "training" be sure to select the pre-designed workout and then hit start. Your training plan will automatically begin and lead you through your predesigned workout. To view more information about training, please visit:

https://support.coros.com/hc/en-us/articles/360043960852-Training

Training Plans - In Training Plan mode, athletes can access their future workouts through the watch. By selecting this mode, athletes will pull up a calendar that highlights future workouts. Scrolling through these days, athletes can see what workouts are on what day. This helps athletes plan their workouts to fit into their normal day-to-day lives. If you are unsure of your upcoming schedule, select training plan to get a birds eye view. To view more information about training plans, please visit:

https://support.coros.com/hc/en-us/articles/360048865371-How-to-create-and-follow-a-training-plan
Notifications During Workouts
To enable notifications during workouts, please follow the steps below

Main watch face > System > Workout Interface > Msg. & Call Alerts > ON.

You can't expand or manage the notifications during workouts.
NOTE: Receiving notifications increases the battery consumption on your COROS watch.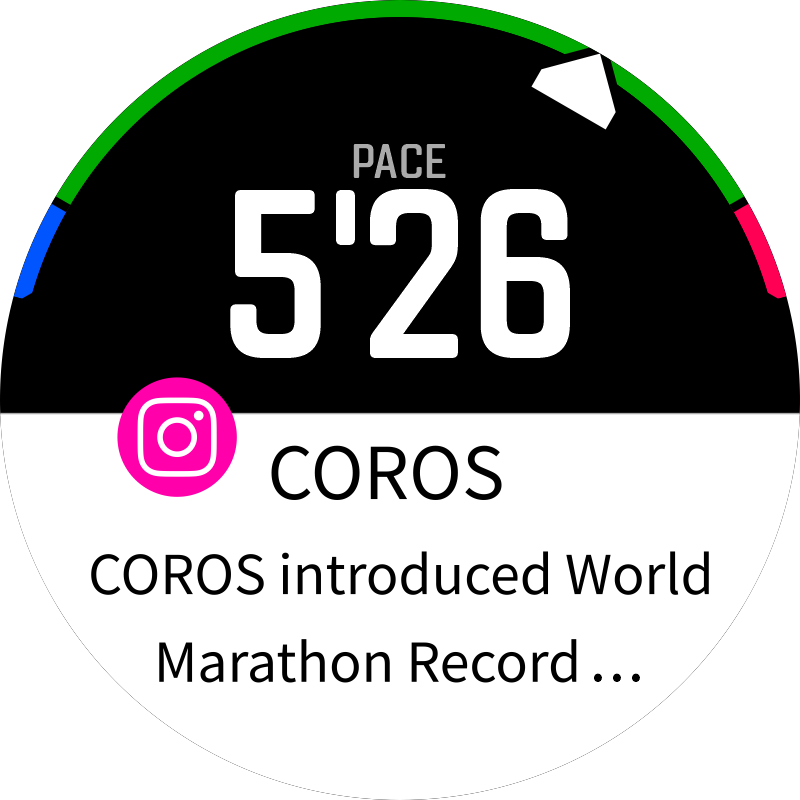 To change the background color on your COROS watch (during workouts), hold the back button to open the Toolbox -> System -> Workout Interface -> Background Color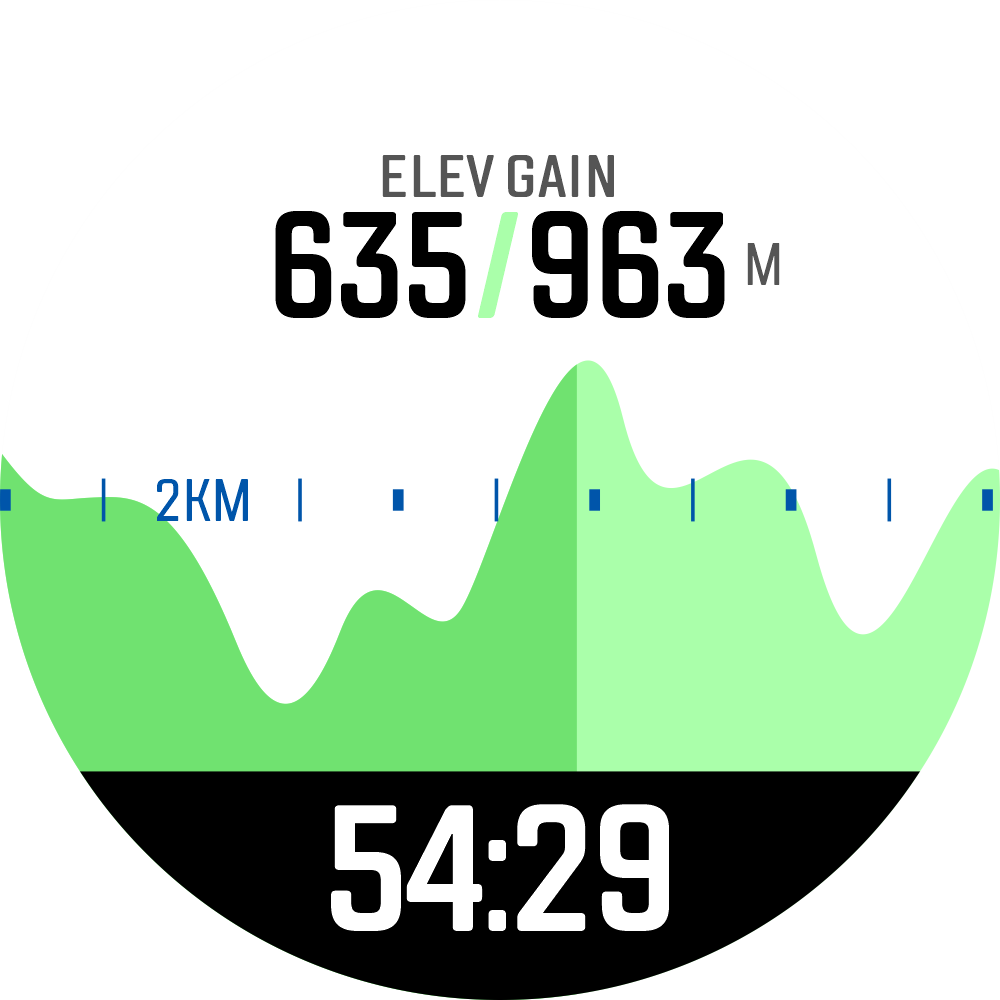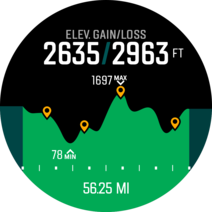 Customize Workout Data Pages
T

o customize data pages on your COROS watch, open the COROS app and navigate to the Profile page (4th tab on the bottom) and tap on the watch icon

Select "Activity Data Screens" under the device which you wish to customize

Next, choose the workout mode that you wish to customize from the library of activities. You can customize the data fields which are displayed during your workouts to be specific to each workout.

You can customize up to six different pages with multiple data fields to curate the specific data that you need during a workout. Dependent upon your watch model and activity mode, there are different data fields for you to choose from. Open the Customize Workout Data option in the COROS app to view these fields.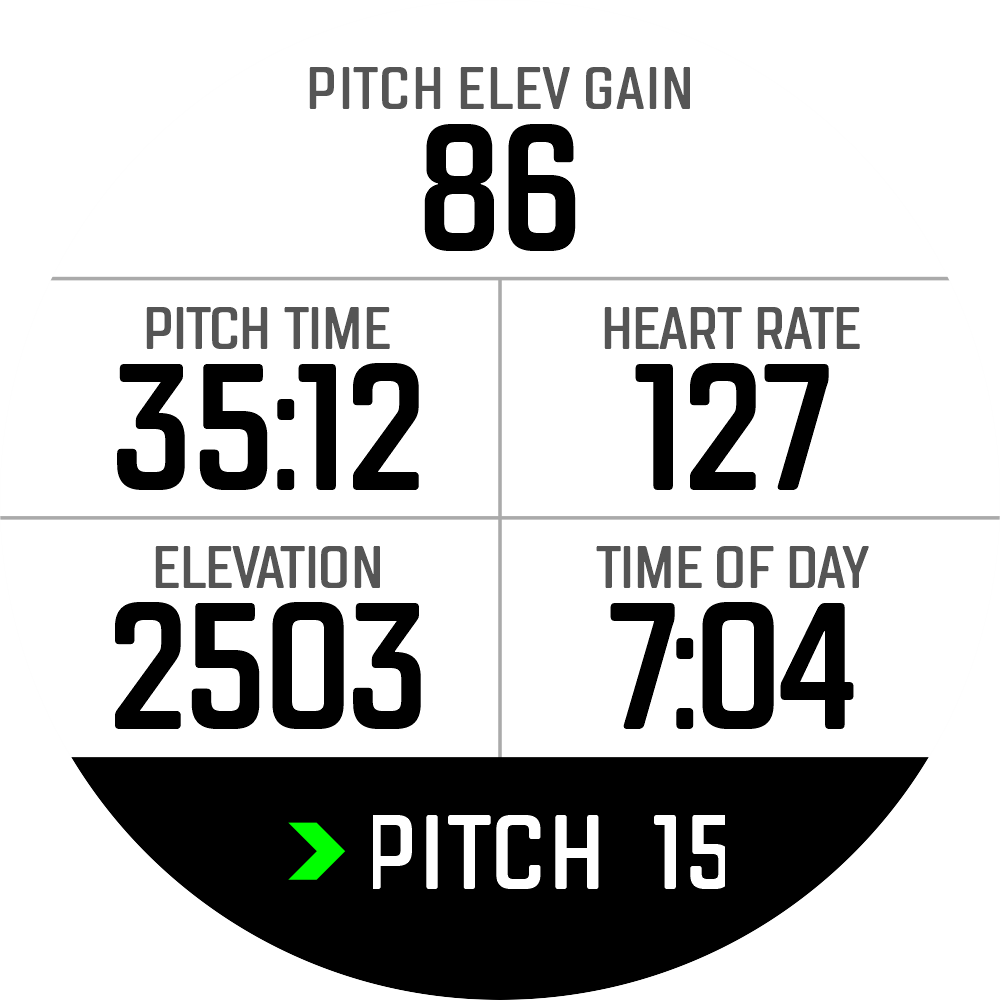 By default, the watch will have Auto Lock enabled during workout modes. You will have to press an

d hold the Confirm button to unlock the watch during a workout.

To disable Auto Lock, hold the back button to open the Toolbox > System > Workout Interface > Auto Lock > OFF.
Syncing Data with the COROS App
After a workout is finished, the watch will sync data automatically to your COROS account on your phone if Bluetooth connection is established. If you don't see the updated data on the COROS app, please tap on the Today page, pull down, and release the page until the top section shows syncing progress.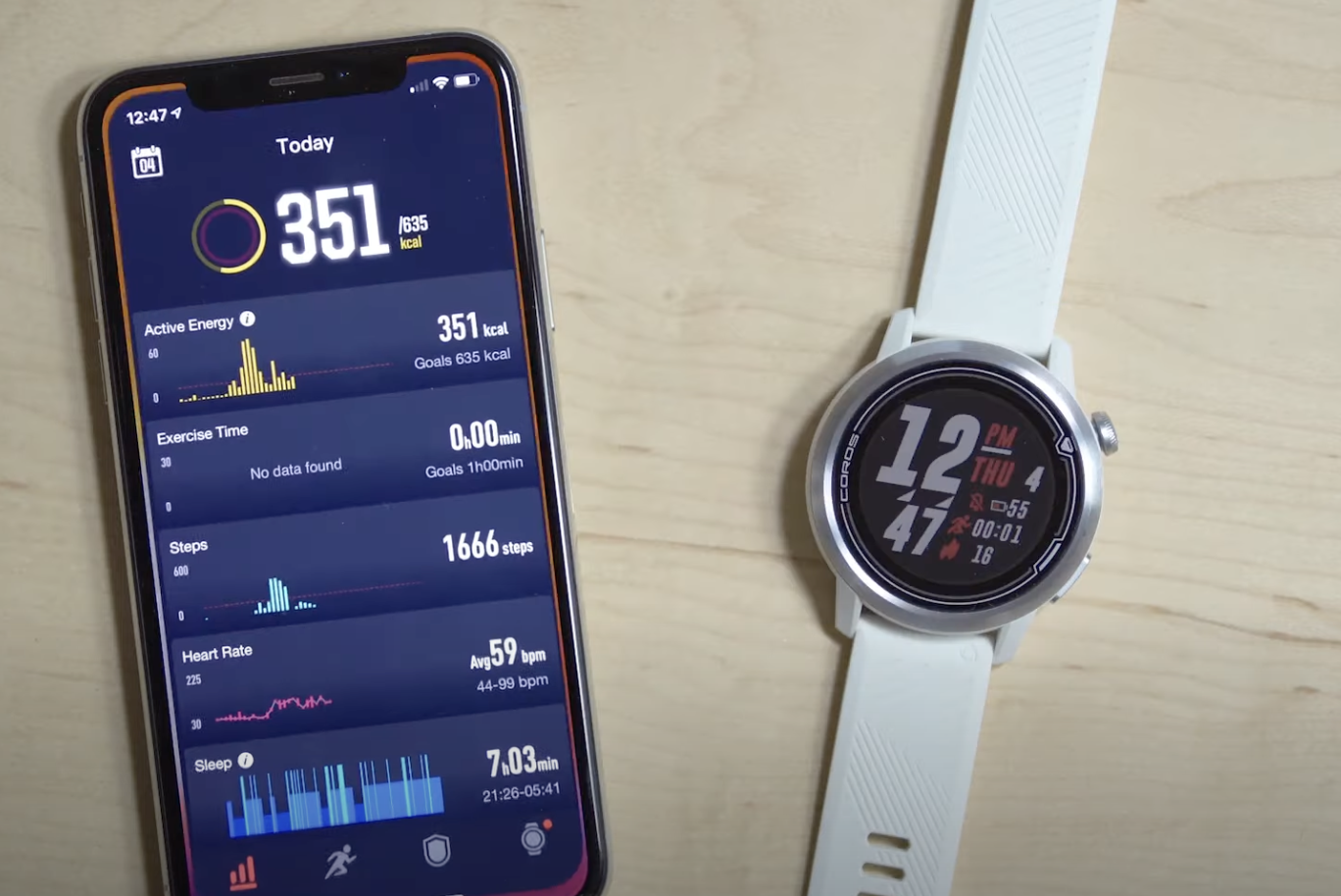 Manually Sending Data to 3rd Party Sites
Open the selected file on the COROS app

Choose the arrow in the upper right-hand corner, then select "Export Data"

Choose ".FIT" file, then use email, AirDrop, etc. to send the file from your phone to a computer

Log in to the 3rd party application (using Strava as an example) on desktop, select "Upload Activity"

Choose "File" do upload the ".FIT" file from the COROS app to upload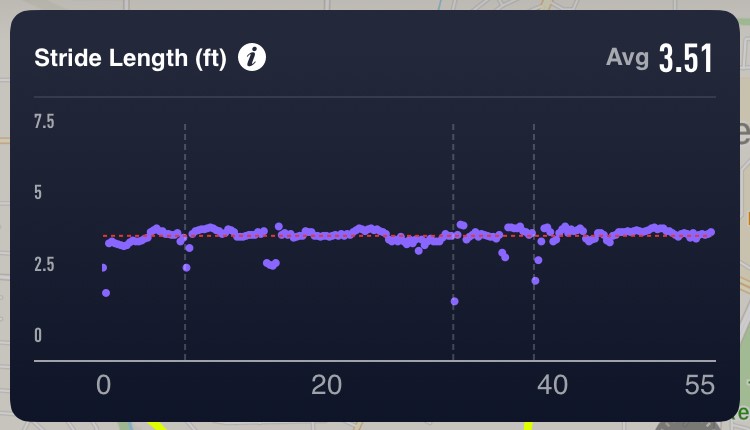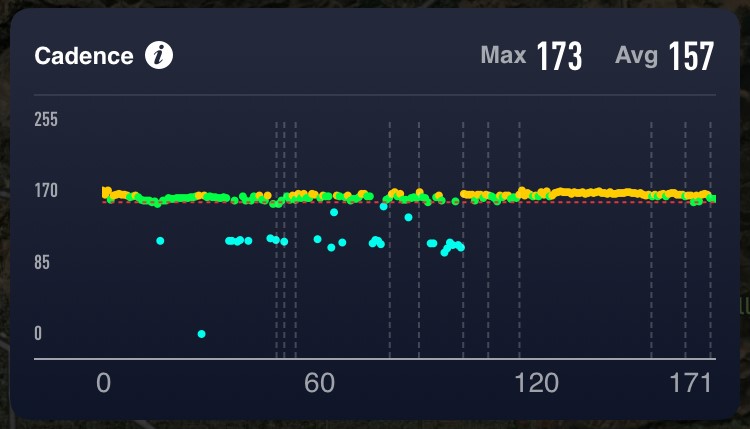 Stride Length

Stride length measures the distance from heel to heel when you take two steps. It is an important factor to evaluate running form and techniques. On average, an adult's stride length is 65 cm / 2.13 ft during walking and between 90-150 cm / 2.95-4.92 ft when running. Many runners overstride believing this will increase the speed. However, this will increase the risk of injury on muscles and knees.

Cadence

Cadence is the number of steps a runner takes per minute. It can vary based on running form and habits. Working on cadence can benefit runners of all abilities. <155 is considered Low, 155-165 is Average, 165-175 is Medium, 175-185 is High, and >185 is Elite.
To set an activity alert, prior to pressing "Start Activity", navigate to Settings -> Activity Alerts. Activity Alerts are custom to individual activity modes and not all options may be available for select workouts.

Cadence

Distance

Heart Rate

Nutrition

Pace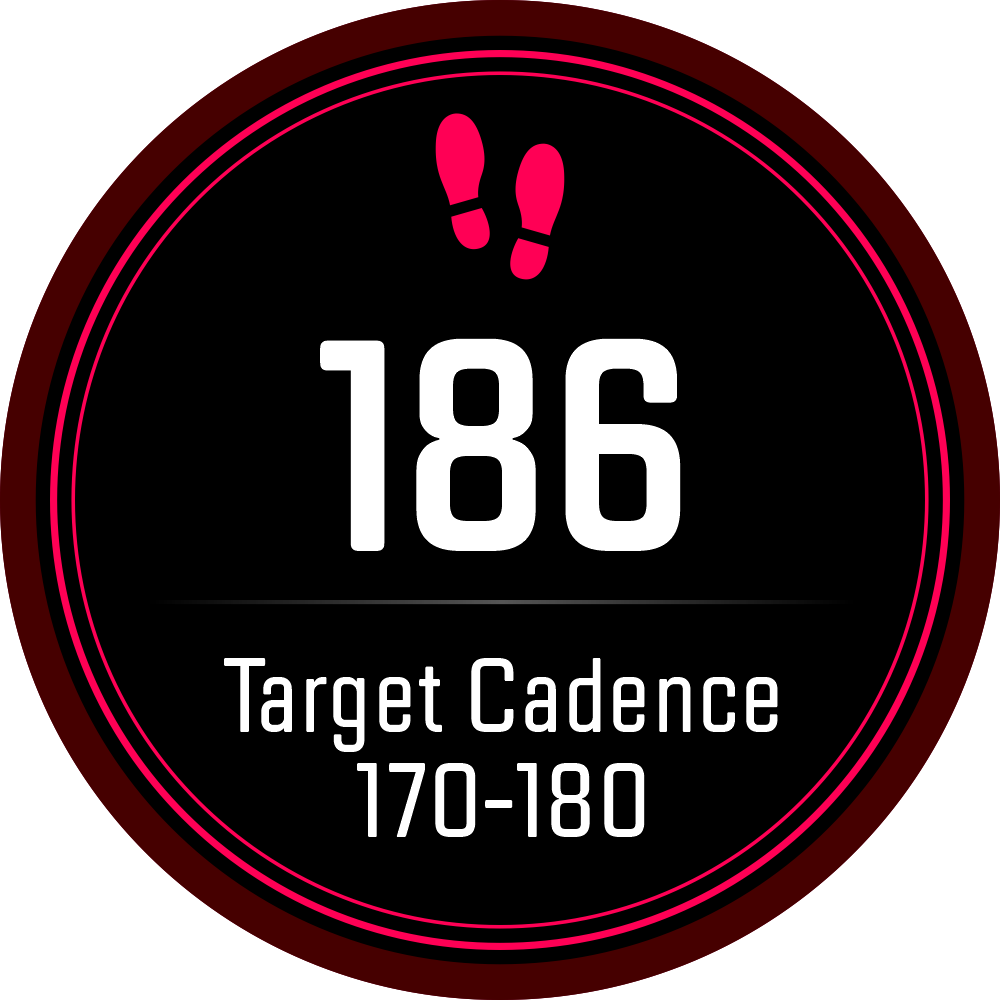 Using Different GPS Modes
To edit which GPS mode you are using, hold the back button to open the Toolbox -> System -> More Settings -> Satellite Systems -> Mode

The Decathlon GPS 500 supports the following combinations of GNSS systems (see

this article

for a full explanation of each system):

GPS Only
GPS, Glonass, Galileo, QZSS
GPS, Beidou, Galileo, QZSS

Depending on your location in the world, there may be different satellite systems that provide better accuracy for you. To decide what satellite setting to use, we recommend opening the Toolbox on your watch and changing between different satellite settings.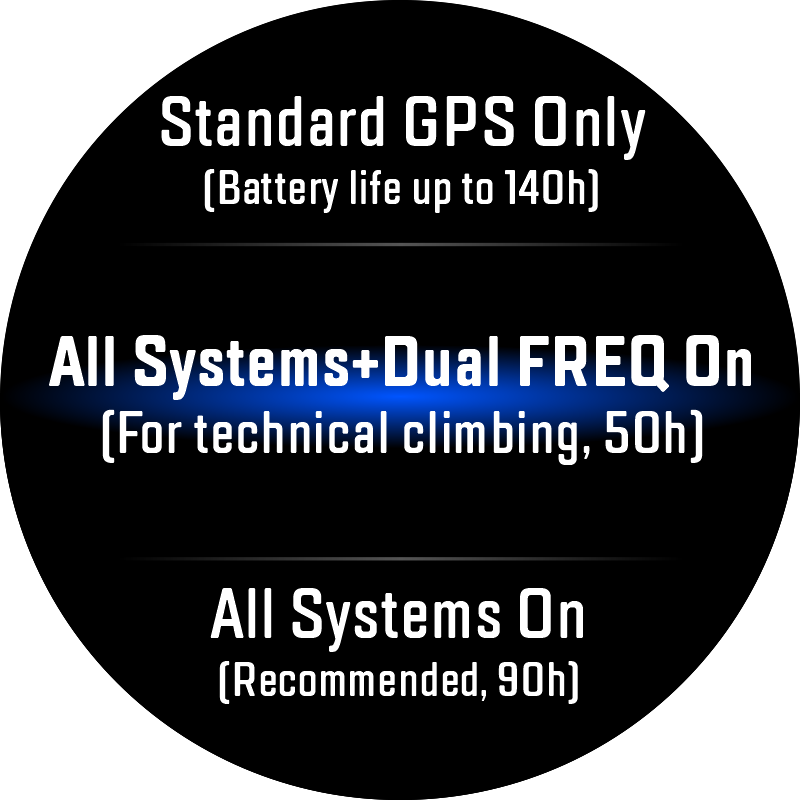 Auto-Scroll (found in System > Workout Interface)

Select to automatically scroll the data pages at a certain interval (not available when displaying the navigation pages).

2 | 4 | 6 | 8 | 10s | OFF