The COROS POD 2 provides multiple advanced metrics to help you better understand your form and performance, and this in turn can provide insight into areas of potential improvement.
| | | | | | |
| --- | --- | --- | --- | --- | --- |
| | Wearing Location | Run | Track Run | Trail Run | Treadmill |
| GPS Track Enhancement | Foot | | | | |
| Distance | Foot | | | | |
| Pace | Foot | | | | |
| Effort Pace | Foot | | | | |
| Cadence | Foot | | | | |
| Stride Length | Foot | | | | |
| L/R Balance | Waist | | | | |
| Ground Contact Time | Waist | | | | |
| Stride Height | Waist | | | | |
| Stride Ratio | Waist | | | | |
| Temperature | Foot | | | | |
| Elevation Gain/Loss | Foot/Waist | | | | |
| Altitude | Foot/Waist | | | | |
| Grade | Foot/Waist | | | | |
*Dual: Indicates that data inputs are coming from both your watch and the COROS POD 2 to create a stable and highly accurate measurement
When clipped to the waist, the COROS POD 2 will provide you with Advanced Running Metrics. To view the Advanced Running Metrics measured by the COROS POD 2 when worn on your waist, first, click into your Activity Summary - then scroll until you see "View more"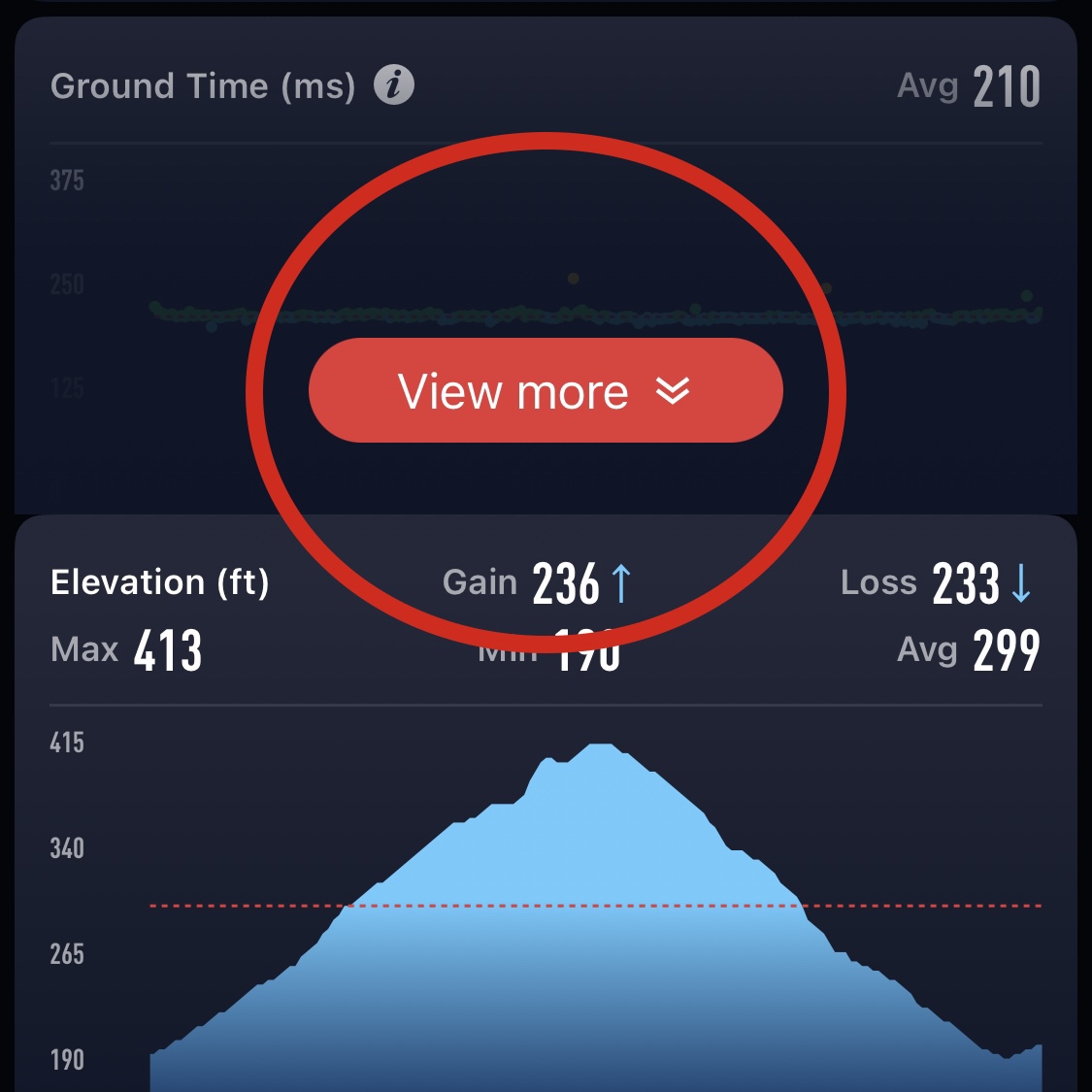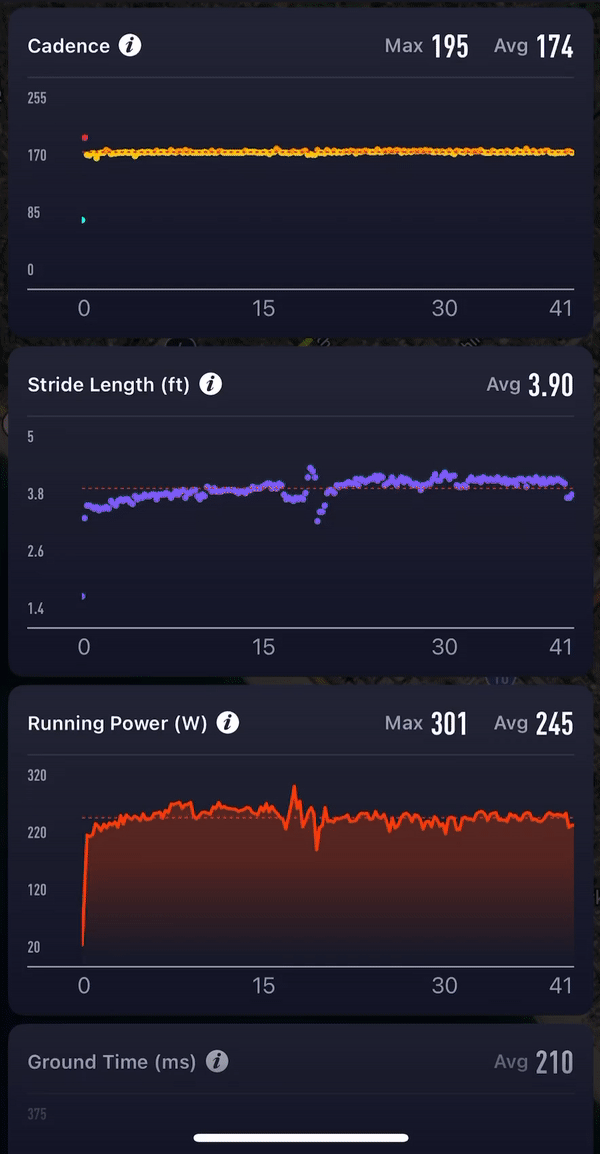 The following metrics are only available in your workout summary when performing a run paired with a COROS POD 2 device:
Temperature (foot)
With a built-in thermometer, the COROS POD 2 automatically records ambient temperature during your activities. The COROS POD 2 is able to measure highly accurate temperature data by avoiding inaccuracies caused by body heat when measured from a watch, as it is not in direct contact with your skin.
Best performances are usually achieved in favorable environmental conditions. Here are a few examples showing what favorable temperature conditions look like for common race distances.
5-15

°C (41-59°F) for marathons

16-22°C (60.8-71.6°F) for 10k runs

19-25°C (66.2-77°F) for 100-meter sprints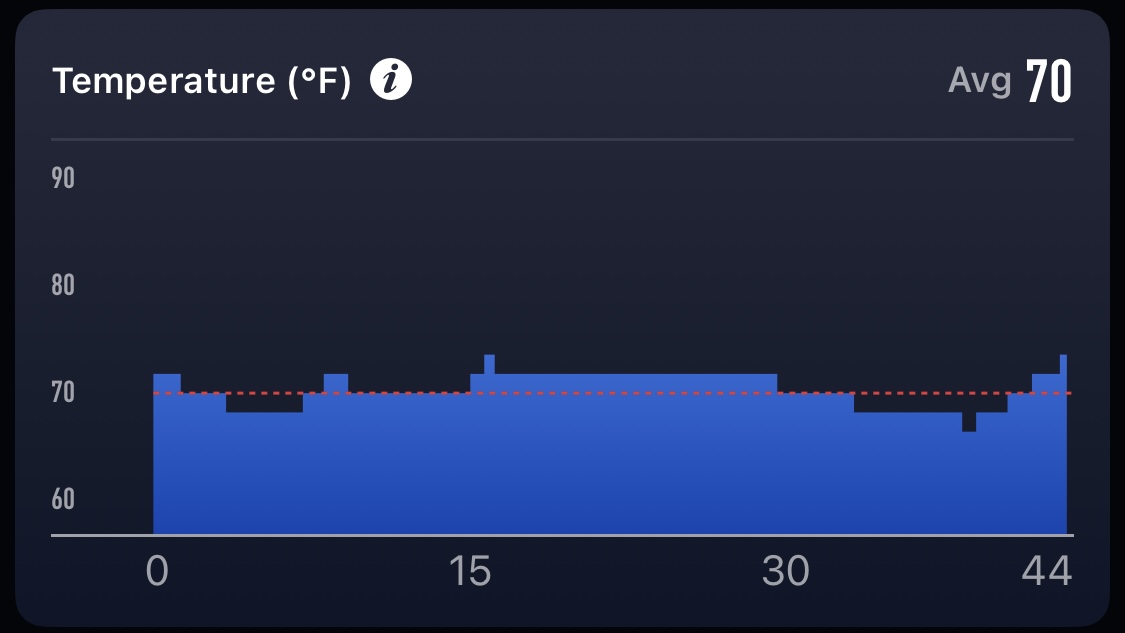 Ground Time (waist)
Ground time measures the amount of time each of your feet are in contact with the ground. Advanced runners tend to have shorter ground time. Elite runners' ground time can be as low as 180ms.
Excellent: <210ms
Better: 210-240ms
Good: 240-270ms
Average: 270-300ms
Poor: >300ms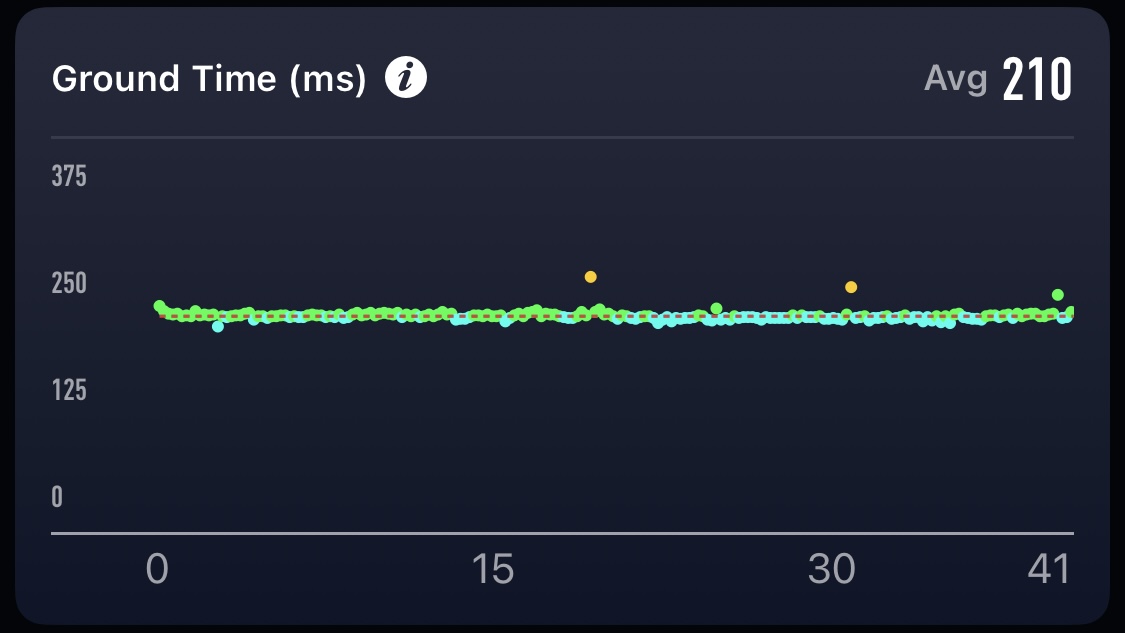 Left/Right Balance (waist)
L/R balance measures the percentage of ground time spent on each foot. Track running and trail running may cause the reading to drift away from the desired green zone. If the reading exceeds 55, your risk of injury may increase.
Orange: >L 51.5 | Far more time on left foot
Yellow: L 50.6-L 51.5 | Slightly longer time on left foot
Green: L 50.5-R 50.5 | Good left/right foot balance
Yellow: R 50.6-R 51.5 | Slightly longer time on right foot
Orange: >R 51.5 | Far more time on right foot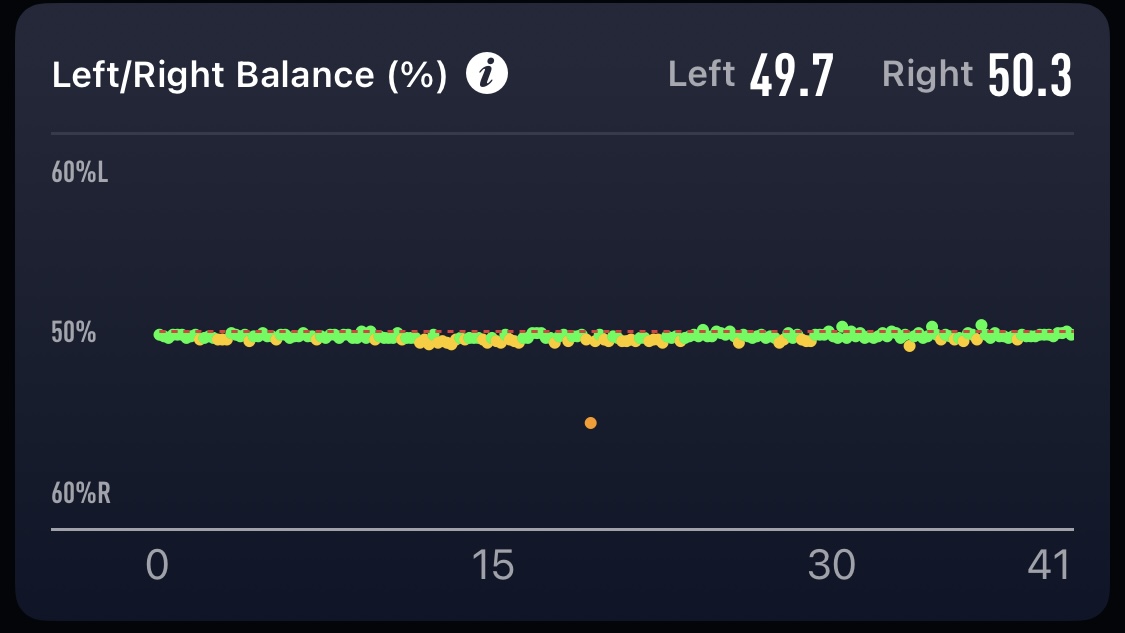 Stride Ratio (waist)
Stride ratio can help measure running efficiency. It is the ratio of stride height to stride length. When stride length is longer and stride height is lower, the amount of energy wasted going up and down is reduced and the running is considered more efficient. The stride ratio for advanced running form can be lower than 6%.
Excellent: <6%
Better: 6-8%
Good: 8-10%
Average: 10-12%
Poor: >12%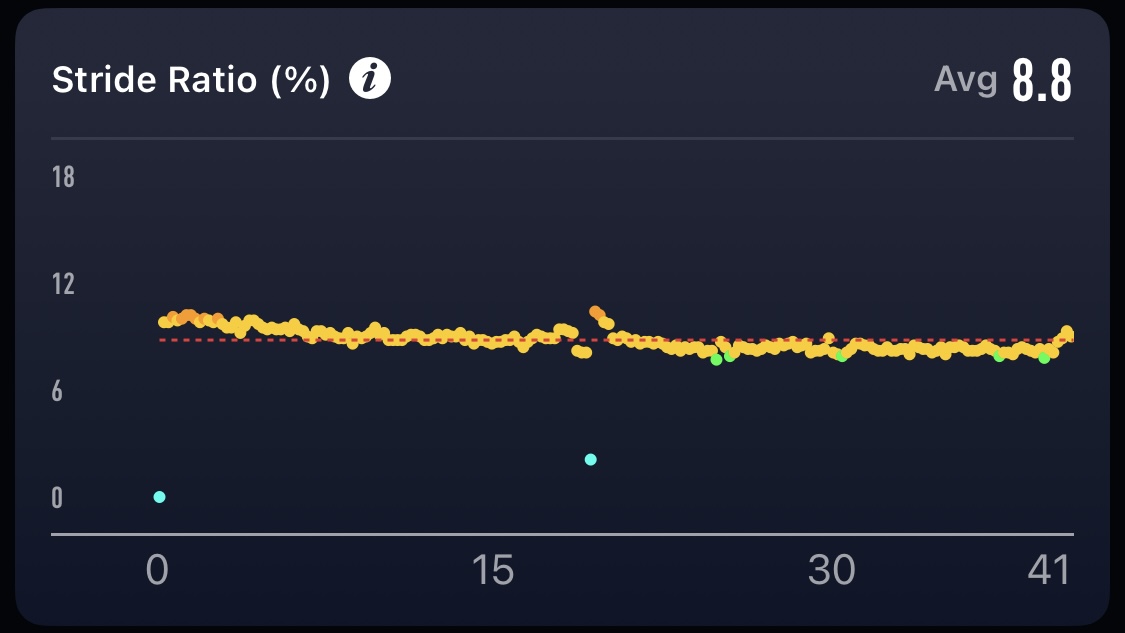 Stride Height (waist)
Stride height is the amount your body bounces vertically with each step. Lower stride height indicates that less energy is wasted bouncing up and down. Fatigue and incorrect running form may cause higher stride height.
Excellent: <5cm or <2in
Better: 5-8cm or 2-3.2in
Good: 8-12cm or 3.2-4.7in
Average: 12-15cm or 4.7-5.9in
Poor: >15cm or >6in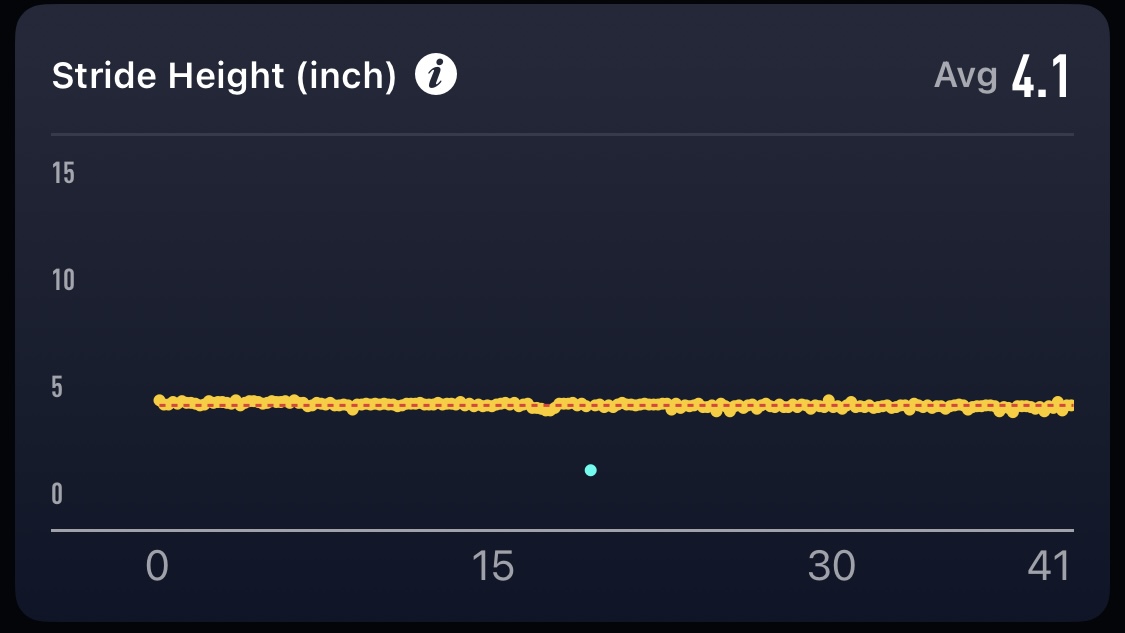 Along with these Advanced Metrics, some of the metrics you are already used to seeing recorded by your COROS watch can be recorded even more accurately by the COROS POD 2. When worn on the foot and paired with your watch, the following metrics are recorded by your COROS POD 2 device:
Real Time Pace

With the COROS POD 2 your real time pace is recorded more accurately and with enhanced responsiveness. Your pace data on your watch reflects your current pace quicker than ever before!

Effort Pace

Along with your real time pace, your Effort Pace is also more responsive and accurate due to the increase in pace accuracy and increase in altitude accuracy (more on that later!).

Cadence

Cadence, or how many steps you take per minute, can be more accurately tracked by a device worn on the foot.
Lastly, in addition to these Advanced Running Metrics, the COROS POD 2 works in tandem with your COROS watch to provide a greater level of accuracy on the following metrics:
Stride Length (foot)
Stride length measures the distance from heel to heel when you take two steps. It is an important factor to evaluate running form and technique. On average, an adult's stride length is 65 cm / 2.13 ft during walking and between 90-150 cm / 2.95-4.92 ft when running. The COROS POD 2 helps improve the accuracy of the stride length measurements made by your COROS watch.
Many runners overstride believing this will increase the speed. However, this will increase the risk of injury on muscles and knees. It is critical to find the stride length that suits you the best for training and races with the help of advanced running metrics from the COROS POD 2.
GPS Track (foot)
Paired with your COROS watch, the COROS POD 2 helps improve GPS Track performance in difficult environments where GPS signals can be easily interrupted. Running under bridges, around tall buildings in cities, situations where normally your GPS Track may be interrupted and jagged lines may appear in your track, the COROS POD 2 uses its own internal sensors to help identify the path you actually followed.
Distance (foot)
With improved GPS track performance, that in turn allows for even greater distance accuracy recording than the watch alone when runs are performed in difficult environments where GPS signals can be easily interrupted.
Altitude,
Elevation Gain / Loss,
Grade
(foot or waist)
With barometric data coming in from both your watch and your COROS POD 2, it creates a more stable and accurate measurement than one device alone! This results in even more accurate altitude and elevation recordings. Additionally, with more accurate altitude readings, COROS can more accurately determine the grade of a hill you're on to better provide accurate Effort Pace measurements.