In The Box
COROS VERTIX GPS Watch
Charging cable
Quick Start Guide/Manual and a Safety/Warranty Booklet
Set-Up
Setting up your new COROS watch should take only a few quick steps for you to be ready to begin recording activities.
Download the COROS app from the iOS or Google Play store

If your watch is not already turned on, hold the Backlight Button (see photo in "Button Layout) for 2-3 seconds or until the watch turns on

Choose what language you prefer to have on the watch

Open the COROS app and choose the Profile Page (4

th

tab on the bottom), then select "Add New Device"

Scan the QR code on your watch to connect, or you can manually pair via Bluetooth if you prefer

Choose the Wearing Hand → Choose the Button Layout → Notifications → User Settings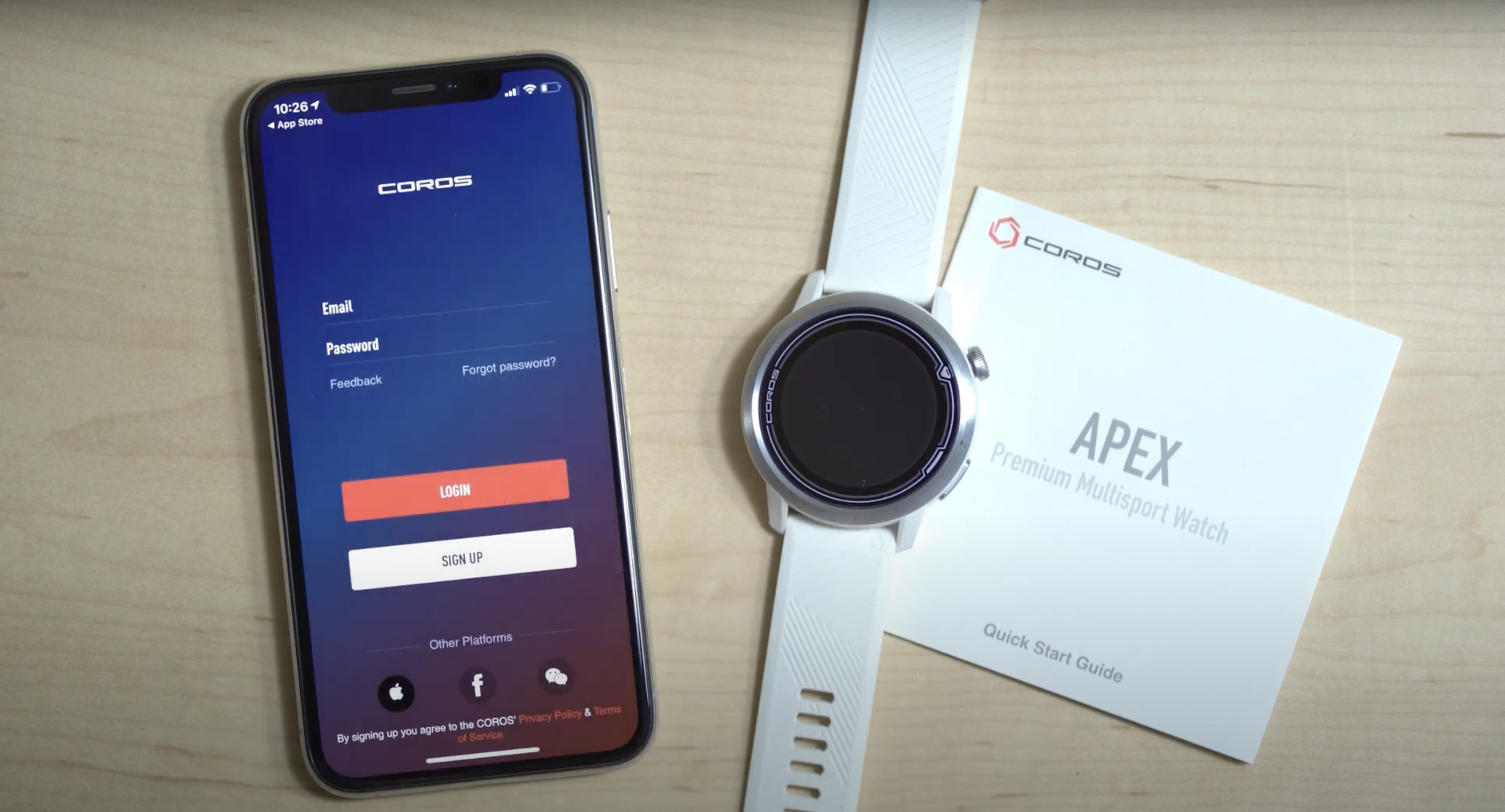 Auto-Lock
When you first receive your COROS watch, it will be set as default to "Scroll to Unlock" to prevent any accidental starts/cancellations of activities, etc. To unlock your watch, scroll the dial consistently in one direction until the display unlocks
To change the Auto-Lock setting hold the BACK/LAP button to access the Toolbox → Settings → More Settings → Auto-Lock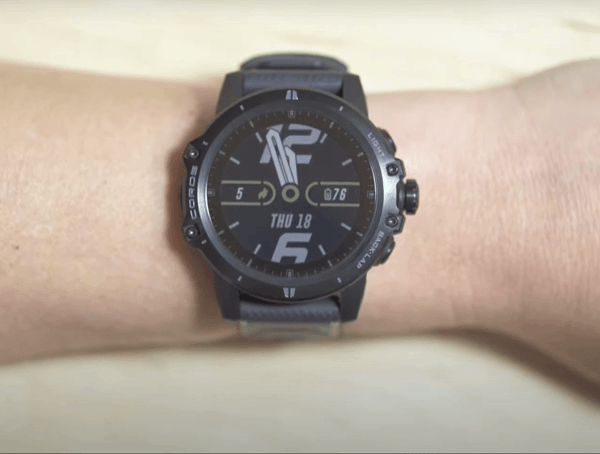 Button Layout
1 (LIGHT):
Long press to activate and deactivate backlight
2 (Digital Dial/CONFIRM):
Scroll/rotate the dial to move your selection up and down

Press to confirm a selection

Hold to finish a workout
3 (BACK/LAP):
Press to return to the previous screen (BACK/LAP button)

Press to record a lap or rest during workouts

Hold to open Toolbox/shortcut menu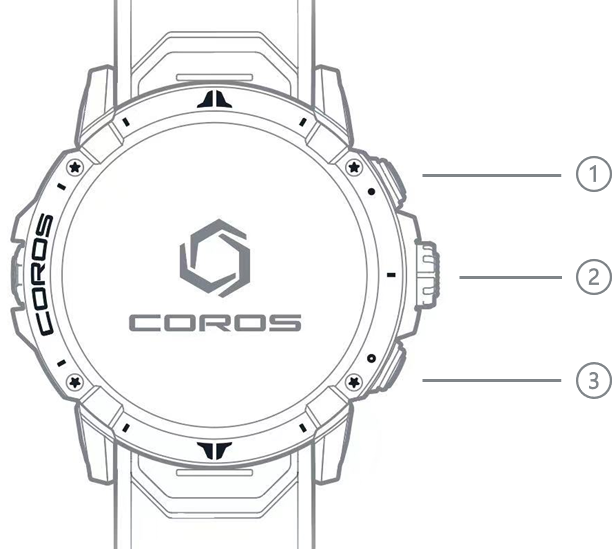 Firmware Updates
To check for firmware updates, open the COROS app and navigate to the Profile Page. To view available firmware updates, tap on the watch icon and select Firmware Version.
How to Charge Your COROS Watch
Locate the charging cable for your COROS watch.

Plug the charging cable into a USB power adapter or a computer.

Connect the charging cable with your COROS watch.

Make sure the cable is fully inserted into the back of your COROS watch.

The cable is not magnetic and will not snap in automatically.

When charging begins, the watch will power on automatically. Watch face will display the current battery percentage.

When the charge is full, your COROS watch will display a green circle and a 100% battery status.
* COROS watches support charging during workouts. Feel free to charge your COROS watch in the middle of the workout recording. Charging won't interfere, stop, or restart your ongoing workouts.
Recording Your First Workout
To start an activity, from the main watch face, press the digital dial once to open the library of activities to choose from.

Please wait until the watch indicates that you have a strong GPS signal (indicated by an "Acquired" message at the top of the screen) and that heart rate is being measured (indicated by a heart icon at the bottom of the screen) before starting your activity.

To pause an activity, with the watch unlocked, press the digital dial button once to pause the current workout. During the pause, a paused timer and current heart rate will display on the page.

To finish a workout, from the paused workout page, scroll to "Finish" and hold the digital dial for three seconds to end the workout.

After finishing a workout, the workout details page will display. If there are multiple laps or sessions recorded, you can select to view the lap details on the bottom of this page.

To access the previously saved workouts on your COROS watch, press the digital dial to open your activity library, scroll to History on the main menu and select a workout to view details.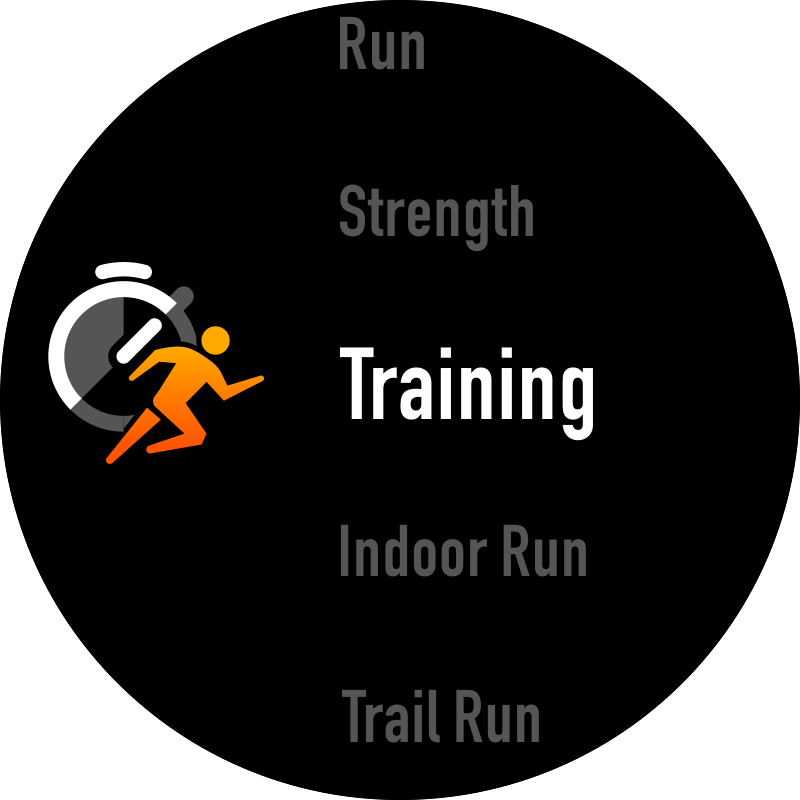 Settings/Preferences
Toolbox/Menu: From the main watch face, press and hold the BACK/LAP button to open the Toolbox/Quick menu
Do Not Disturb: Select to switch ON/OFF Do Not Disturb mode
Alarm: Select to set up a new alarm or manage existing alarms

Available alarm modes: Only Once | Every Day | Custom

Compass: Select to open the 3D compass

Press the CONFIRM button to toggle between the following info:

Compass and current time

Compass, GPS coordinates, elevation and barometer

Broadcast HR: Select to take a heart rate measurement and broadcast HR to Bluetooth-supported devices and apps
Altitude Performance: Select to take a blood oxygen SpO2 measurement

Press the CONFIRM button to start a new SpO2 measurement

Data available on this page:

Top section: Altitude performance index (available if elevation is over 2500m or 8250ft)
Middle section: SpO2 and time since last reading
Lower section: Elevation

Scroll down to view the SpO2 (in red, yellow and green) and elevation (in blue) graph in the last 24 hours and 3 days.

UltraMax GPS mode: Select to switch ON/OFF UltraMax GPS mode during outdoor running workouts to extend the battery performance. We recommend only using this feature when necessary as it greatly reduces the accuracy of your measurements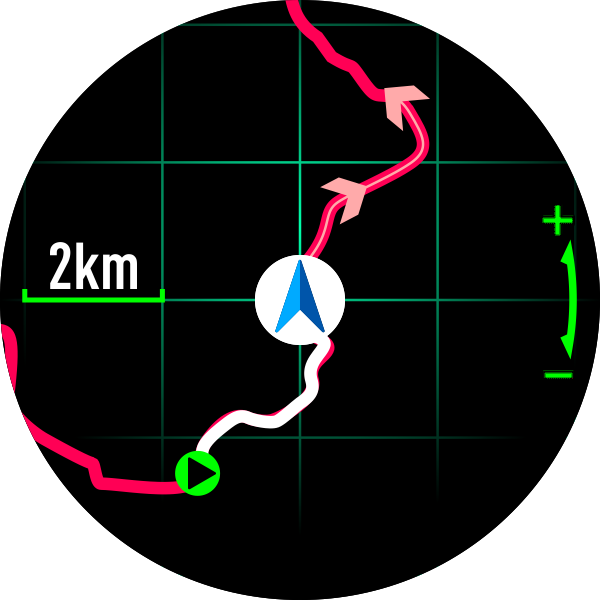 Navigation Settings: Select to choose the following settings:

Select Courses

Course Selection

Start Course

Elevation Details

Start Point Direction

Start Point Direction
Map Direction
Deviate Course Alert
NOTE: This is not a workout mode and no workout data will be saved.

Map: Select to view and follow a saved route that is closest to your current location
Stopwatch: Select to use the stopwatch function

Press the CONFIRM button to start and pause the stopwatch

Press the BACK/LAP button to start a new lap and reset the stopwatch

Hold the BACK/LAP button to exit the page without interrupting the stopwatch

Available in daily and workout modes

Timer: Select to set up to 3 timers with the repeat feature

Setup new times will overwrite previous ones

Press the CONFIRM button to start and pause the timer

Press the BACK/LAP button to restart the timer or return to the timer setup page

In order to repeat a timer, select Repeat → ON

Hold the BACK/LAP button to exit the page without interrupting the timer

Available in daily and workout modes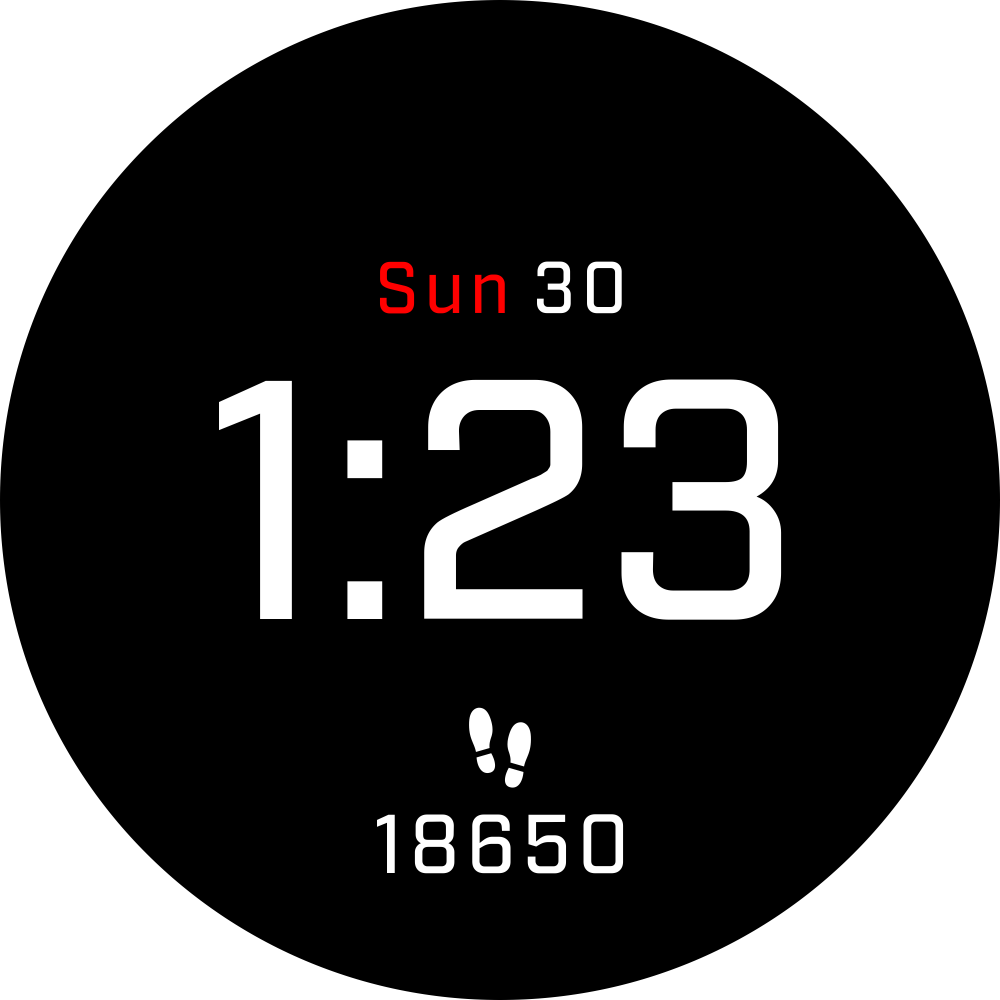 Watch Faces

: Select to choose among 5 watch faces stored on the watch and theme color options

Download new watch faces from the COROS app

Workout Settings (accessible during workouts)

: Select to access the workout settings for the current workout

System: Select to open System menu
Manage backlight and visibility

To change backlight settings: System → More Settings → Backlight

With "Gesture Backlight" turned on, raising your wrist or pressing any button on the watch will activate the backlight for 10 seconds.

Due to the nature of the LCD screen used on COROS watches, visibility is the best when used in outdoor environments under direct sunlight. The stronger the sunlight is, the better the screen visibility is. To improve visibility:

Activate "Night Mode": Hold the BACK/LAP button to open the Toolbox, scroll to find Night Mode

Select for low brightness level always-on backlight

Once switched on, the mode will be deactivated automatically after the next sunrise.

Use White Background: Main watch face → System → Workout Interface → Background Color → White

Change Language

When you turn on the COROS watch for the first time or reset the watch, you can choose the system language.

From the main watch face → System → More Settings → Language

Change Orientation

Main watch face → System → More Settings → Wrist Hand → Left | Right

Main watch face → System → More Settings → Digital Dial → Dial Location → Right | Left Side

Main watch face → System → More Settings → Digital Dial → Dial Orientation → Clockwise Down | Up

Remove, change, and fasten COROS watch bands

COROS VERTIX watch bands are 22mm wide and compatible with select 3rd party quick fit bands.

Locate the latch on the band.
Slide the latch to release the band.
Press the new band into place.

Change Unit Settings

On COROS watches: System → More Settings → Unit → Imperial (feet) | Metric (meters)

On the COROS app: Profile page → Settings → Units → ft/lbs | cm/kg

Bluetooth Connectivity

To pair Bluetooth accessories with your COROS watch, hold the BACK/LAP button to access the Toolbox → System → Accessories → Add Bluetooth

Please ensure that the device which you are attempting to pair is in pairing mode and discoverable.

You can add multiple accessories from the same type to the Added List on your COROS watch. Only one accessory per type can be paired with your COROS watch during workouts.

Accessories from different types can work together in one workout. For instance, a paired chest strap and cycling power meter can both work in Indoor Bike mode at the same time.

Heart Rate Broadcast

Main watch face → press and hold the BACK/LAP button to open Toolbox menu → Broadcast HR

Open the pairing page on supported devices/apps and wait to connect.

Notifications

To edit notification settings, open the COROS app and navigate to the Device page, select "Notifications"

On this screen you have the option to enable/disable notifications from any apps which you choose.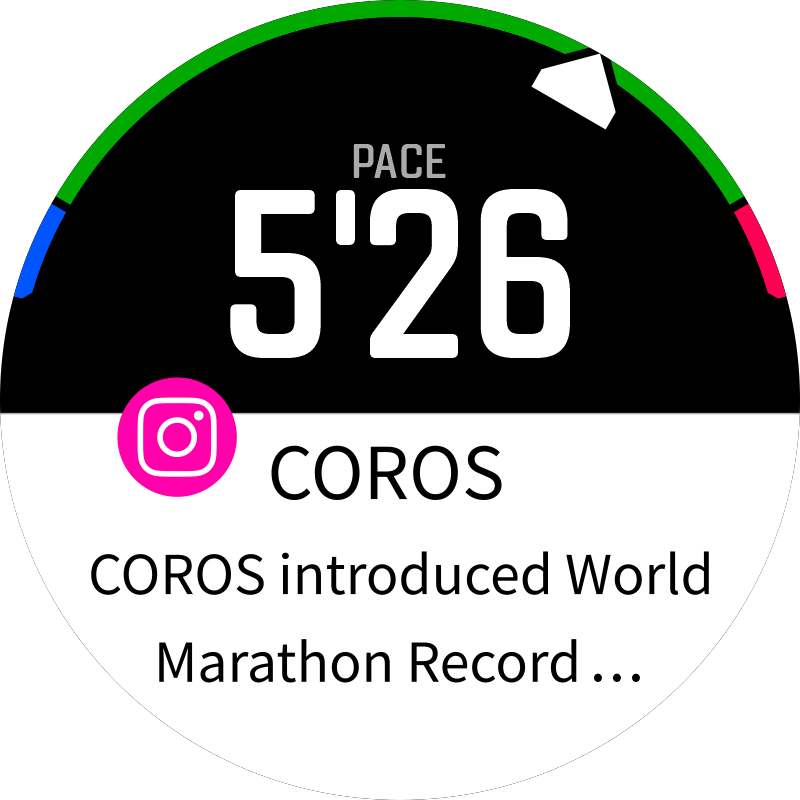 GPS Modes

To edit which GPS mode you are using, hold the BACK/LAP button to open the Toolbox → System → More Settings → GPS → Mode

Standard GPS:

Standard GPS only takes one GPS reading per second and typically works well for normal use when under standard conditions.

All Systems On Mode:

All Systems On mode turns on all satellite systems simultaneously, including GPS, GLONASS, Galileo, Beidou, and QZSS. Previous generations of GPS watches only allowed for 2-3 systems to be turned on at once, we highly recommend that All Systems on is the GPS mode used for everyday workouts.

Ultra-Max GPS Mode:

UltraMax GPS mode utilizes GPS, motion sensors and proprietary algorithms to extend the battery life without sacrificing too much of the tracking accuracy. For every 120 seconds, the GPS is switched on for 30 seconds. Ultra-Max mode will be the least accurate GPS tracking of all our GPS modes and is not recommended to be used unless necessary.

Battery Usage Report & Prediction

Built into every COROS watch is a "Battery Usage" tool that allows you to view on-demand usage reports on the consumption of your watch battery during the current charging cycle.

To access the Battery Usage tool, hold the BACK/LAP button to access the Toolbox, then scroll until you find "Battery Usage"

The Battery Usage tool will then display a graph that shows you the current battery percentage of your watch, a graph showing your historical battery drain, when your last charge was, and the estimation of how long your battery will last based on "standard use".

To view a more in-depth breakdown of the battery usage statistics, press the digital dial.

From this screen you can see the following metrics: Remaining Power, Estimated Daily Use Left, Estimated Max Daily Use Left, Estimated GPS Use Left, Last Charge, Since Last Charge. You will also find the most common features which cause battery drain here, and what percent of your recent battery drain can be attributed to these common features. Below is an explanation of each of the common features which consume battery:

System: Normal operating activities. Any type of regular maintenance on the watch or features that are vital to maintaining a functional watch (i.e. keeping the clock up-to-date) will fall within the "System" category
Notifications: Any notifications which are pushed to your watch, both for workout alerts (lap alerts, etc.) and daily notifications (calls, text messages, etc). This is displayed as a number rather than being included in the overall percentage estimate.
GPS Workouts: Any activity recorded which uses GPS signals to measure and record distance, etc.
Backlight: Any power used to illuminate your watch screen. The more you use your backlight (Night Mode, Backlight Gesture, etc.), the higher this percentage is likely to be.
Daily Heart Rate: Measurements taken that consume battery to provide daily heart rate data. You have the ability to specify this to "Real-Time" or "Every 10 Min"

What sensors are in the watch?

3D Compass, Accelerometer, All-Satellite Dual-Frequency GNSS, Barometric Altimeter, Electrocardiogram Sensor, Gyroscope, Thermometer, Wrist-based Heart Rate Sensor, Wrist-based Pulse Oximeter
Wearing Your Watch
To ensure that your watch can gather the most accurate data possible, here are a few best practice tips to follow.
Wear the watch tightly, but not so tight as to cut off circulation. It should fit snug and not slide around with movement.
Leave a 1cm gap between your wrist bone and the watch. The higher the watch is above the wrist bone, the more flush the surface of your skin, and the less likely the sensor is to be impacted by flexion in the wrist.
Keep your hands warm. The OHR signal comes from your blood reflection. So, the more blood flow you have, the better signal your watch will receive. The weather doesn't need to be freezing to impact your OHR accuracy. As long as your hands feel cold, your blood flow is reduced significantly. The best way to solve this is to try and keep the area where your watch is located on your wrist warm.. Another suggestion is always warm up your body (and your hands) before starting your workout in the winter.
Wait for your watch to display a stable HR reading. Just like your body, your OHR sensor requires some warm-up too. It's recommended to stay on the "Start" page and wait a little longer so the watch can filter some noise by itself. Our watches also provide an alert beep to let you know when it's ready to go ( if sounds are turned off, you will see a heart symbol that will be solid and steady when ready)
Select the proper training mode. The regular running, cycling, and swimming algorithms are not specifically built for tracking rapid changes in heart rate. When you train with intervals, please select the Interval Training mode under Run mode for enhanced heart rate tracking sensitivity.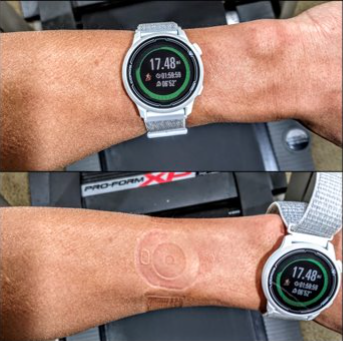 3rd Party Integrations/Data Syncing
Link your COROS account with 3rd party apps to enjoy a fast and seamless data syncing experience.
On the COROS app → Profile page → 3rd Party Apps → Log in via the pop-up browser and follow instructions to complete the integration. Here are a few popular apps, to view the full list see the appendix.

Final Surge

PWR Lab

Relive

Runalyze

Strava

Stryd

TrainingPeaks