If you're ready to start training for your first (or another) marathon, we're here to help. With COROS Personalized Marathon Plans, we'll use your recent training data and create a complete training plan for you to help you reach your racing goals.
Creating Your Plan
To create your plan, open the COROS app to the Progress page and select your training calendar. Click on the three dots in the top right corner and select Personalized Marathon Plan.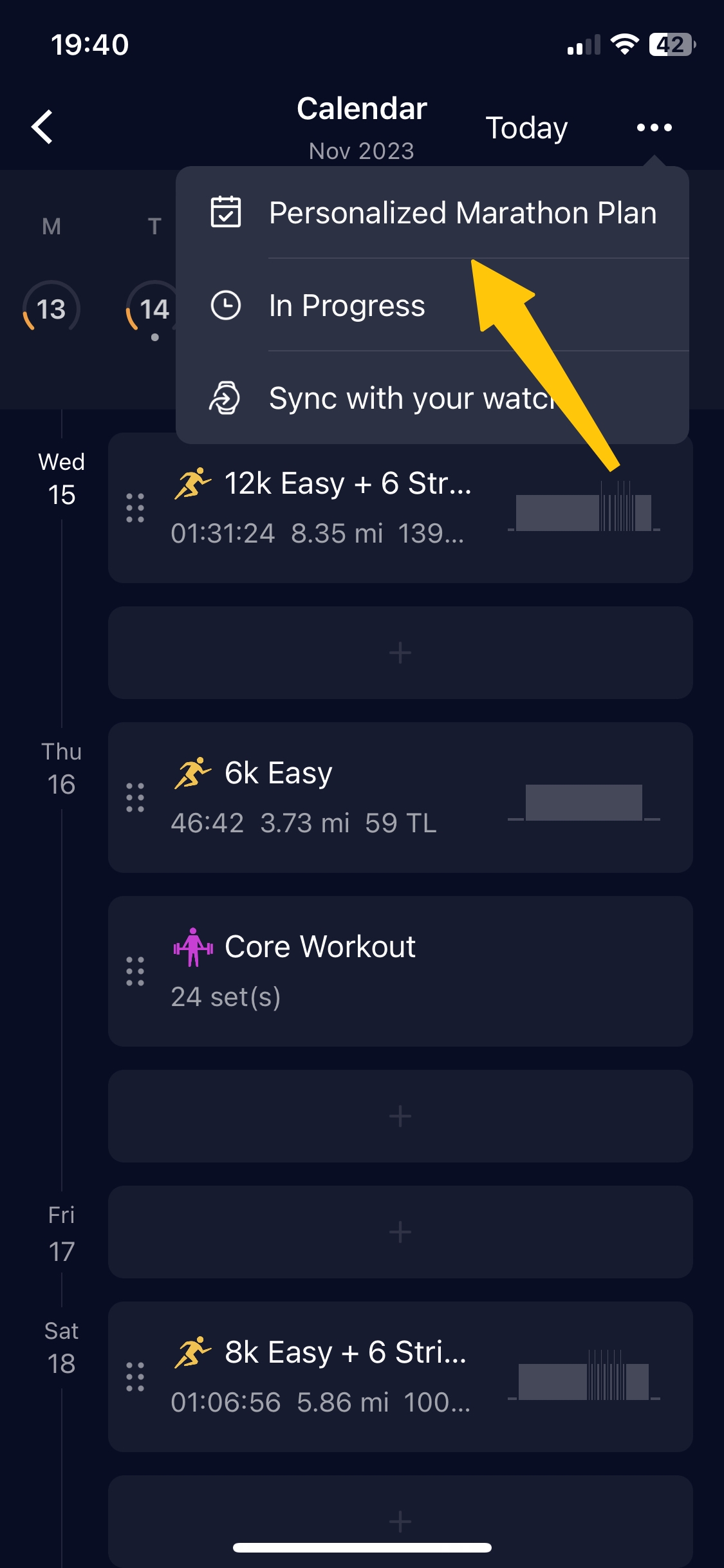 Note: These plans are best suited for runners who have already completed a half-marathon, and have a predicted marathon time slower than three and a half hours.
Next, choose "Create Your Plan" and then confirm your most recent, or estimated 10k and marathon times. The suggested times are based on your COROS Race Predictor, but if they do not reflect your known best times, you can edit them here.
Next, estimate the total distance you've ran in the last month. The system will provide an initial estimate based on your last month of training with COROS.
If you have a race coming up, select "Yes" and confirm the race date so the training plan timeline can adjust accordingly.
Customizing Your Plan
Now it's time to customize your plan! You first need to choose your target time and intensity level. This will determine both the frequency and difficulty of the workouts within your marathon plan, as well as the total duration of the plan.
Drag the slider to choose your target marathon time. This will change the training plan details at the bottom of the page, so you can see the average weekly mileage and number of workouts suggested to reach that target time.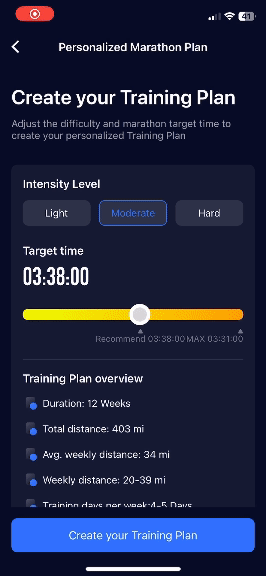 When you're ready, select "Create your training plan" at the bottom of the page. This will open your new training plan details so you can view the total time, number of workouts, and more.
You can toggle between kilometers and miles in the top right corner and switch between Distance, Time, and Training Load to see a visual representation of your training plan week over week.
Your plan is broken down into multiple phases, starting with a Base phase to prepare the body for the harder workouts to come; followed by a Progression or Peak phase to build strength, distance, and intensity; and concluding with a race phase to maintain fitness and taper going into race week.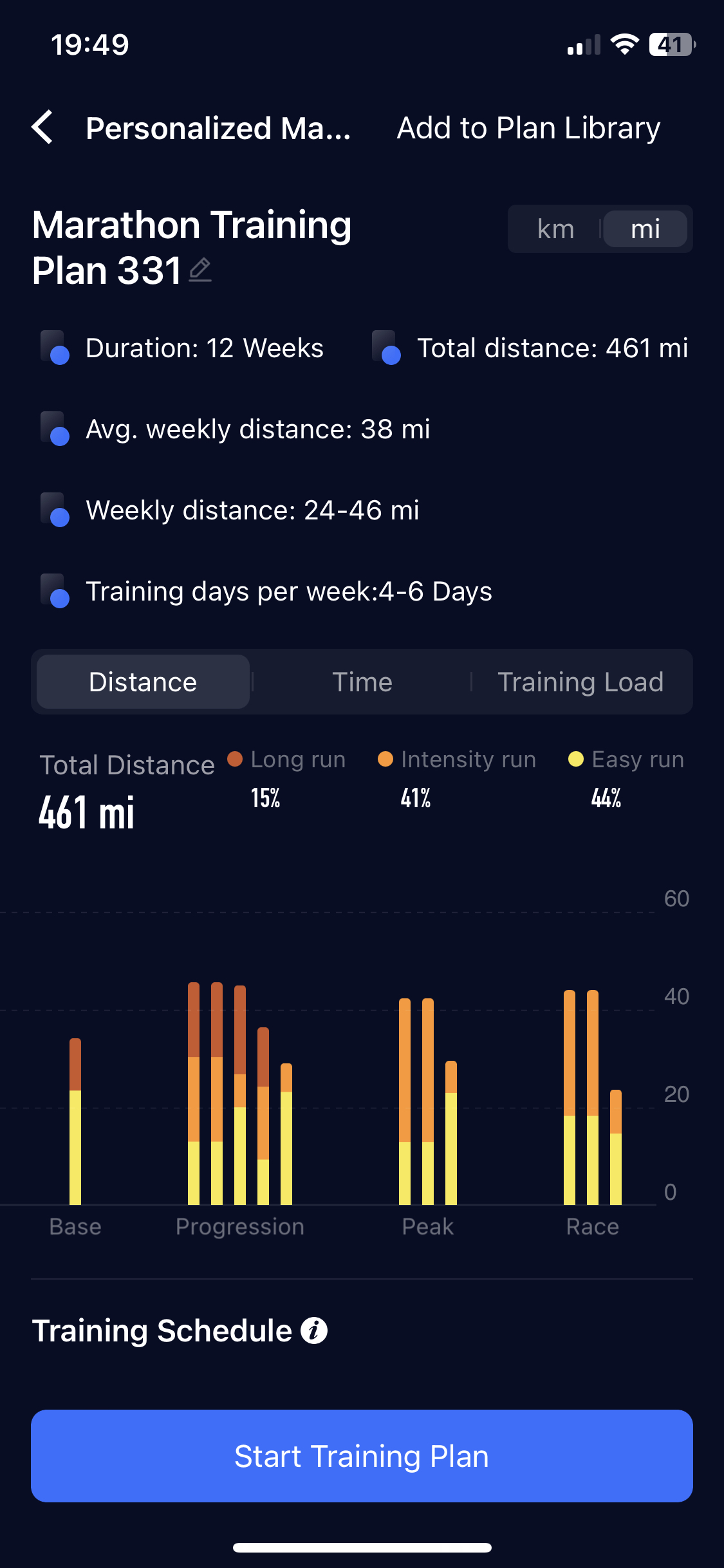 Scroll down to view individual workouts for each week. All personalized marathon plans include a mix of easy runs, interval runs, long runs and strength training. Select any workout to view the details for that workout.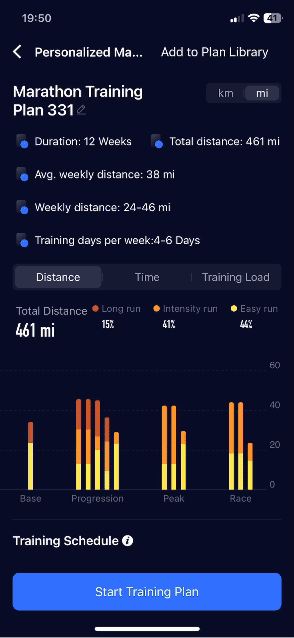 Following Your Plan
To start your new marathon plan, press Start Training Plan at the bottom of the page and choose your start date.
Or, if you would like to save the marathon plan and come back to it later, you can click "Add to Plan Library" in the top right corner. You can then access the plan at any time from the Profile page by opening your Training Plan Library.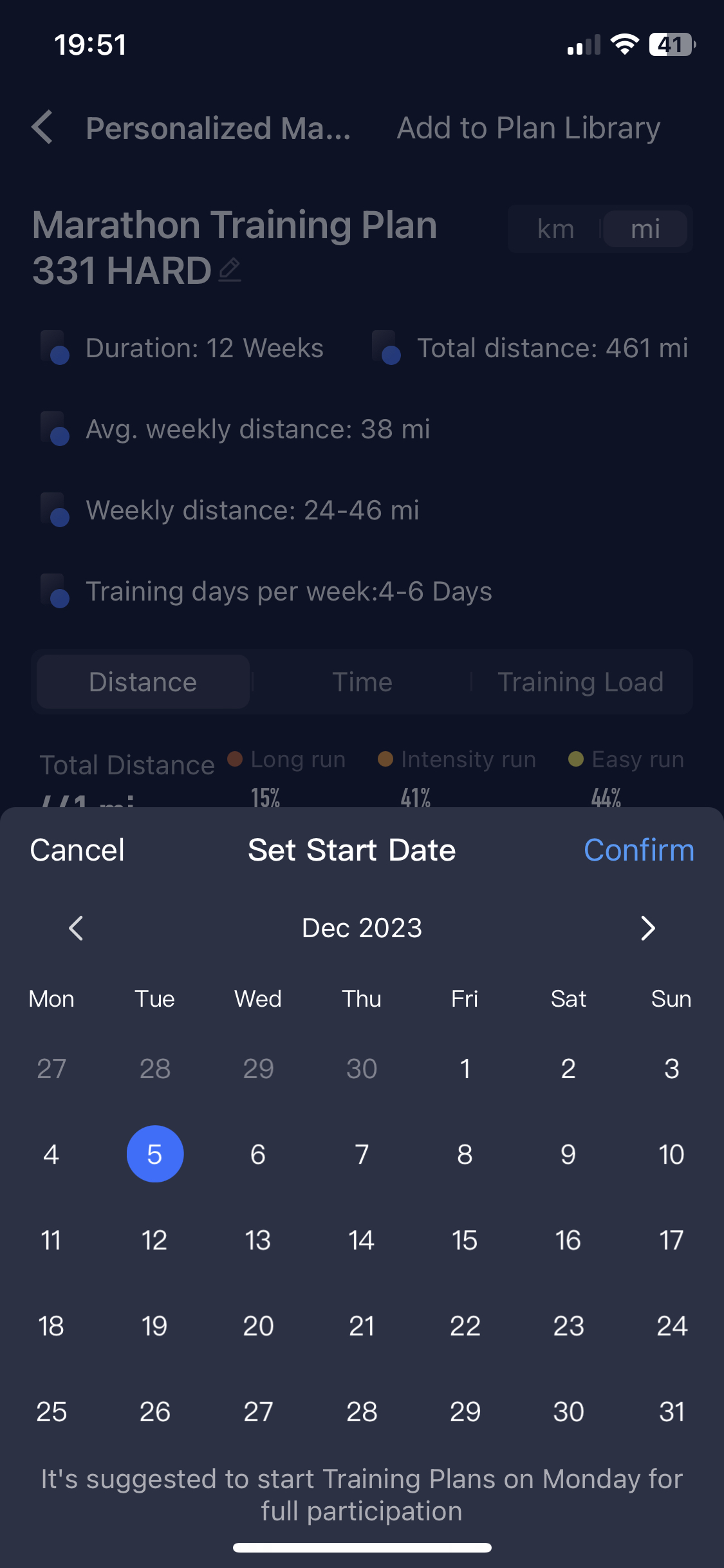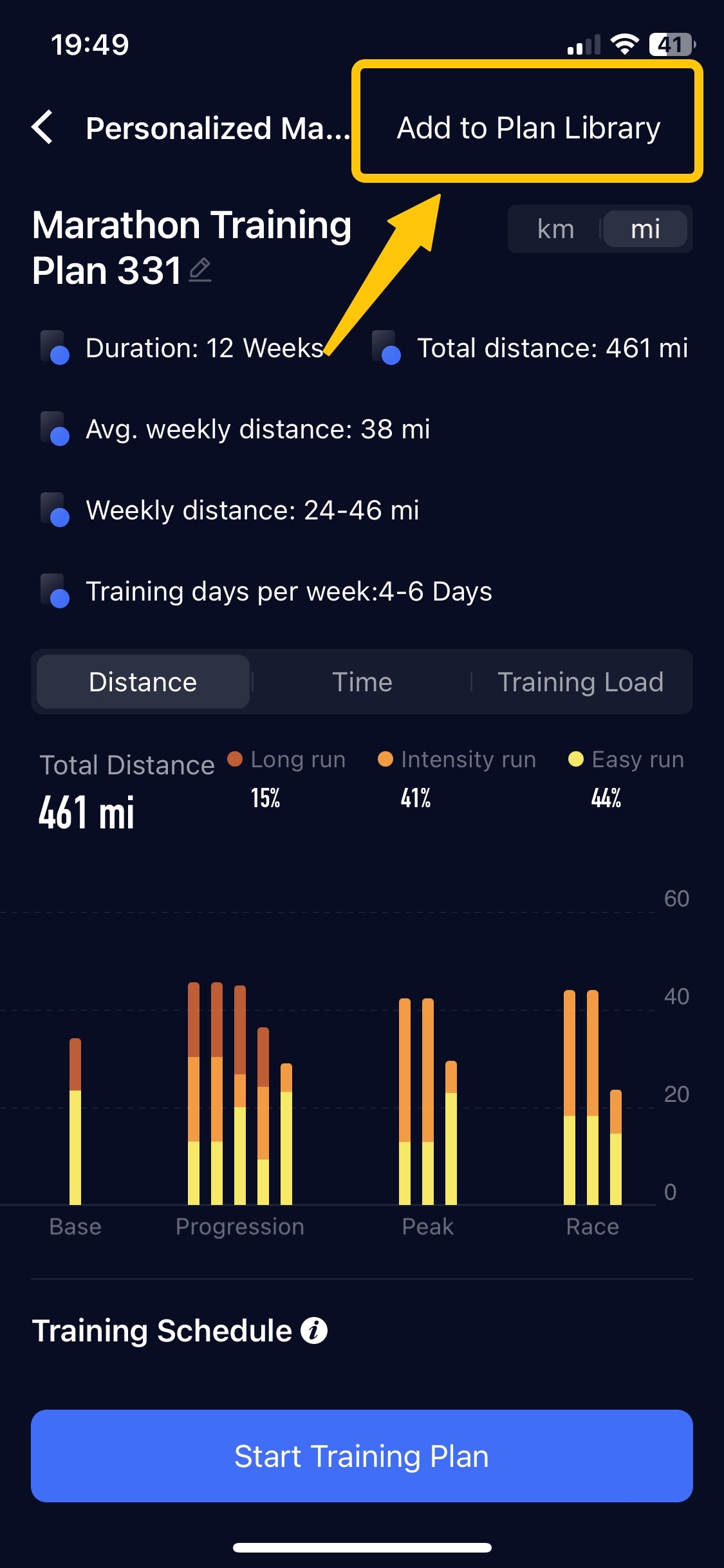 If you need to move a workout from one day to another, open your training calendar from the Progress page. Press and hold on the name of the workout, then drag and drop to a different date.
Your training plan will automatically sync the next 2 weeks of workouts to your paired COROS watch. You can access the workouts on your watch by going to the activity menu, then scrolling to Training Plan.
As you progress through the marathon plan, you can review your progress by going to the training calendar in your app and selecting the three dots in the top right corner. Choose In Progress, then select the marathon plan. This will bring up a summary page with your training score and improvements made to your estimated marathon time.