COROS watches are equipped with standalone GPS modules to acquire the GPS signal individually. You don't need to carry your phone during training for the watch to connect to GPS. Connecting to GPS on your COROS watch for the first time or traveled over 200 miles since your last GPS connection may take up to several minutes. The subsequent GPS connection should take less than 20 seconds on average.
Without updated GPS satellite data, the GPS acquisition time on your watch may take substantially longer than usual. Please refrain from moving before your COROS watch fully acquires the GPS signal. Once the watch is connected to the GPS, the satellite data will be valid for 4 hours on your watch compared to the 3 - 7 days if it's updated from the COROS app.
Please follow the steps listed below to ensure a fast GPS connection on your COROS watch.
Update the GPS Satellite Data on the COROS app on a regular basis.

COROS app > Device Page > tap on GPS Satellite Data.

Tap on the watch image on the Device page to open a new page with additional settings if you can't find GPS Satellite Data option.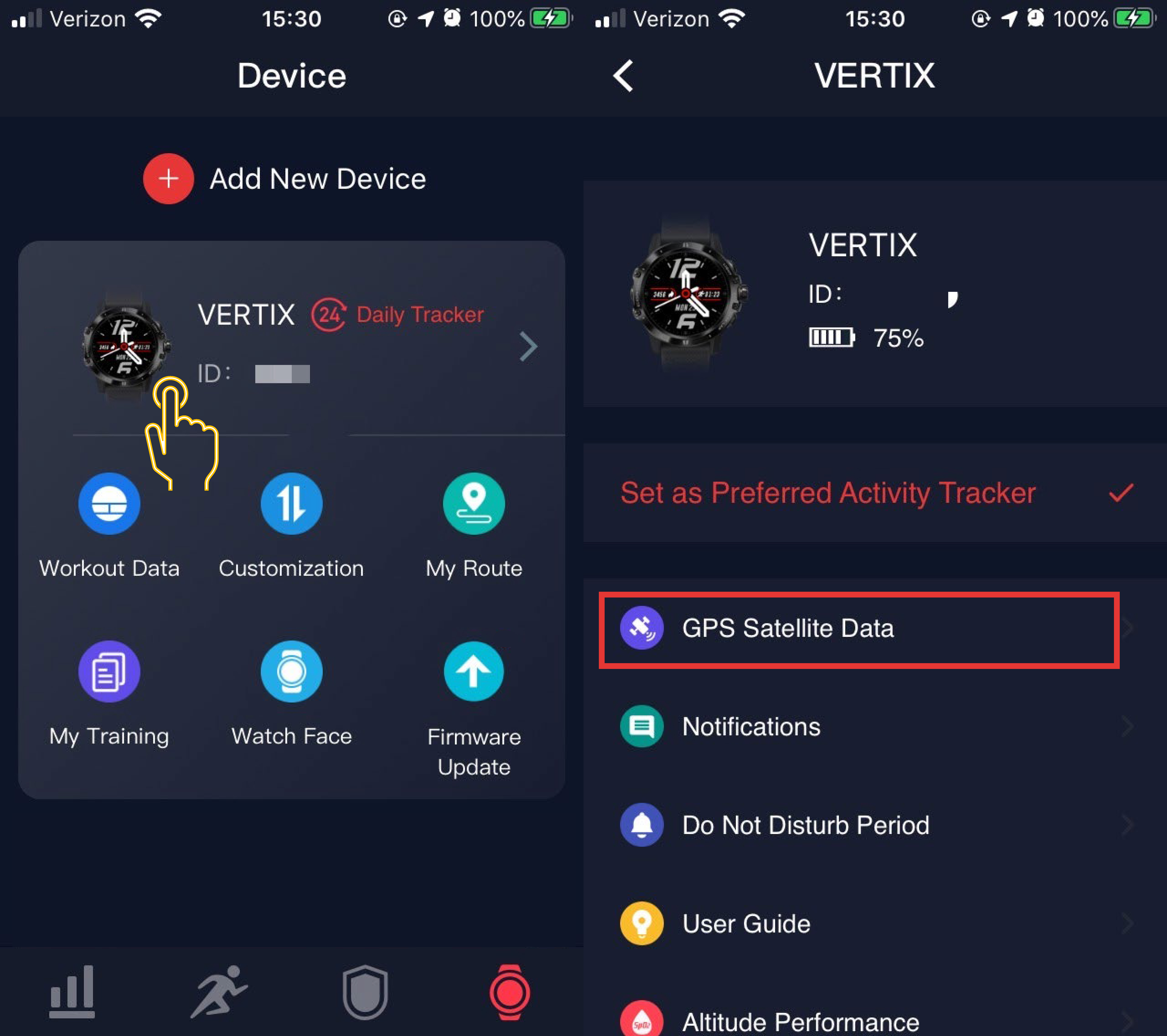 GPS Satellite Data is valid between 3 to 7 days on your COROS watch depending on the watch model. Expired data may cause GPS connection issues.
Stand still in an open field away from buildings.
Remain still before GPS is fully acquired.
If you have trouble updating the GPS Satellite Data on the COROS app and receive an error message "AGPS verification failed", please follow the step listed below.
Disable any connected VPN.
Switch the network on your phone (celluar/WiFi).
Please change the settings on your iPhone.

Settings > Safari > Clear History and Website Data.
If none of the above steps works, please restart and reset your COROS watch. Make sure to sync the watch with the COROS app prior to following the steps below.
Restart

Press and hold the Power button for 15 seconds to restart the watch.

Reset

System > More Settings > Reset > Reset All
Reset will not delete data saved on your COROS app/account.