Start
From the main watch face, press the CONFIRM button once to open the System menu. Then scroll to select a workout mode to begin.
On the Start page, make sure to adjust the settings accordingly. Please wait until the heart rate and GPS signal are fully acquired before starting your training. Otherwise the heart rate and GPS tracking accuracy may be severely affected. If you use an ANT+ accessory, please also wait for the white accessory icon to become solid.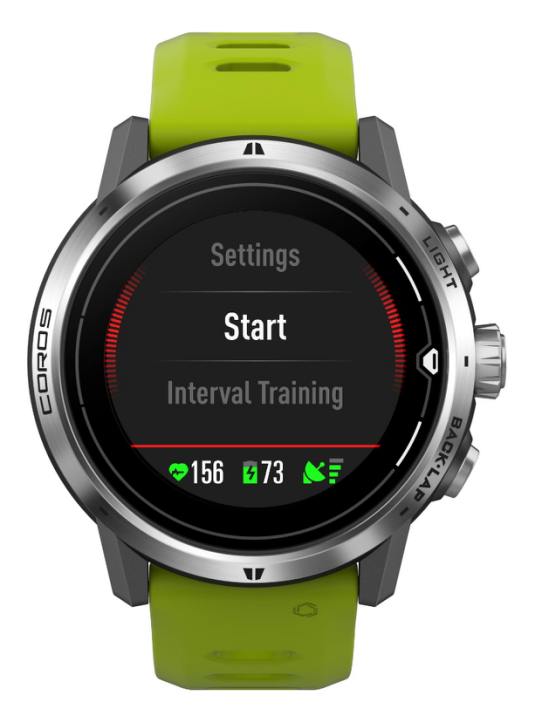 Pause
Press the CONFIRM button once to pause the current workout. During the pause, a paused timer and current heart rate will display on the page. You will find all or part of the options listed below based on the workout mode.
Resume
Select to resume the workout.
Lane 1 400M
Select to change the lane on the track you are running on.
Finish
Select to finish the workout.
For COROS APEX/APEX Pro/APEX 2/APEX 2 PRoVERTIX/VERTIX 2 users, press and hold for 3 seconds to finish the workout.
Details
Select to view the current workout details.
Laps
Select to view distance, time and pace/speed data for each lap. If the lap types are warm up, cool down or rest, they will be marked as W (warm up), C (cool down) and R (rest).
Resume Later
Select to save the progress, temporarily exit the workout mode and return to the main watch face. This will conserve battery life during multiple-day activities.
Available on select workout modes listed below.

Trail Run
Mountain Climb
Hike
Bike

Not available on PACE or PACE 2 due to hardware limitations.
Triathlon mode doesn't support the regular paused page. Press the CONFIRM button to enter transition. Press BACK/LAP button on the transition page to return to the current session. Triathlon workout can only be finished in full and can't be ended early.
Finish
After finishing a workout, the workout details page will display. If there are multiple laps or sessions recorded, you can select to view the lap details on the bottom of this page.
To access the previously saved workouts on your COROS watch, go to History on the main menu and scroll down.
If you have trouble ending the workout, please check out this blog for more help.
Watch Guide