Battery Usage Tool
Built into every COROS watch is a "Battery Usage" tool that allows you to view on-demand usage reports on the consumption of your watch battery during the current charging cycle.
To access the Battery Usage tool, hold the back button to access the Toolbox, then scroll until you find "Battery Usage" (see photo below)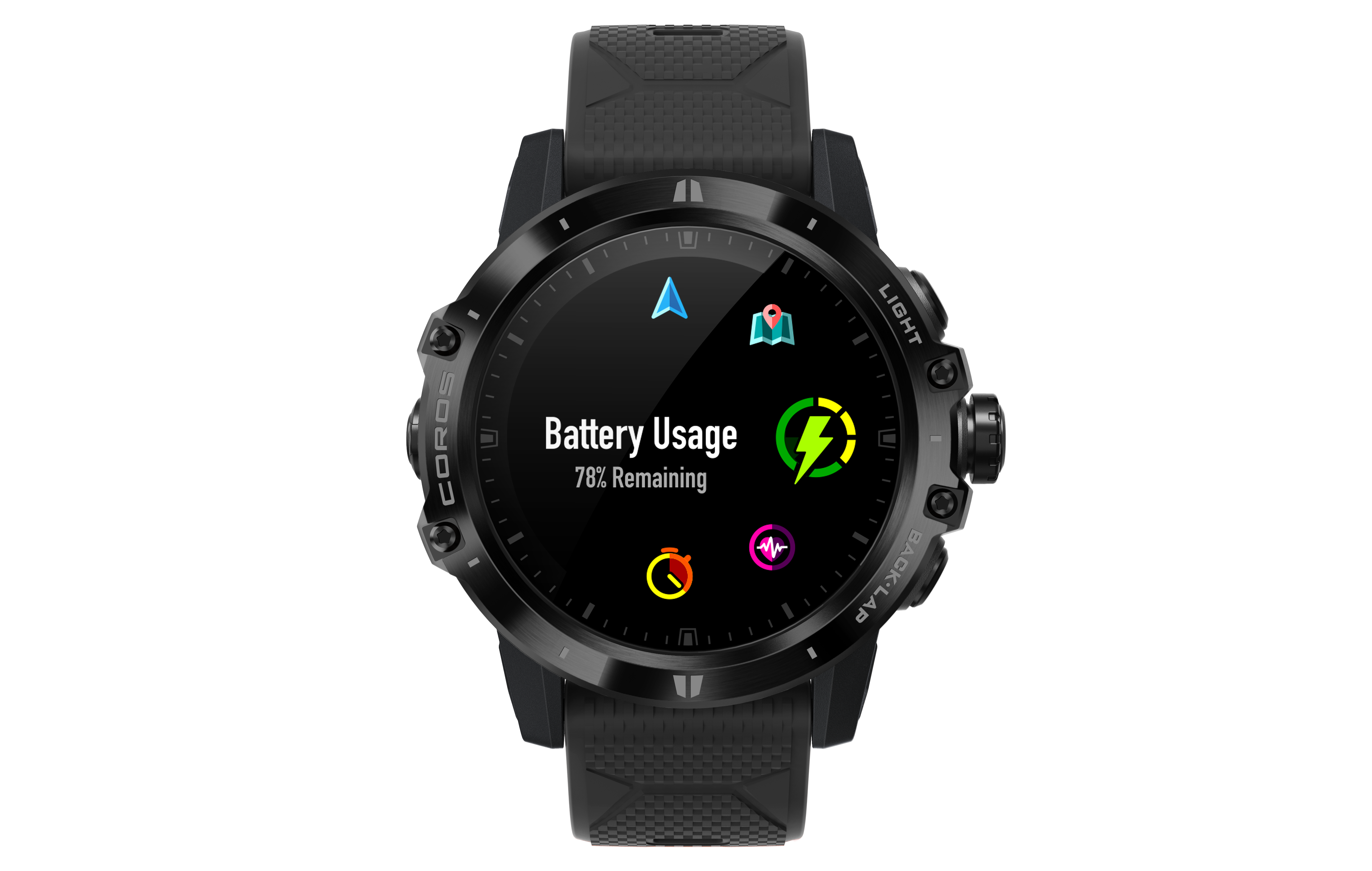 The Battery Usage tool will then display a graph that shows you the current battery percentage of your watch, a graph showing your historical battery drain, when your last charge was, and the estimation of how long your battery will last based on "standard use".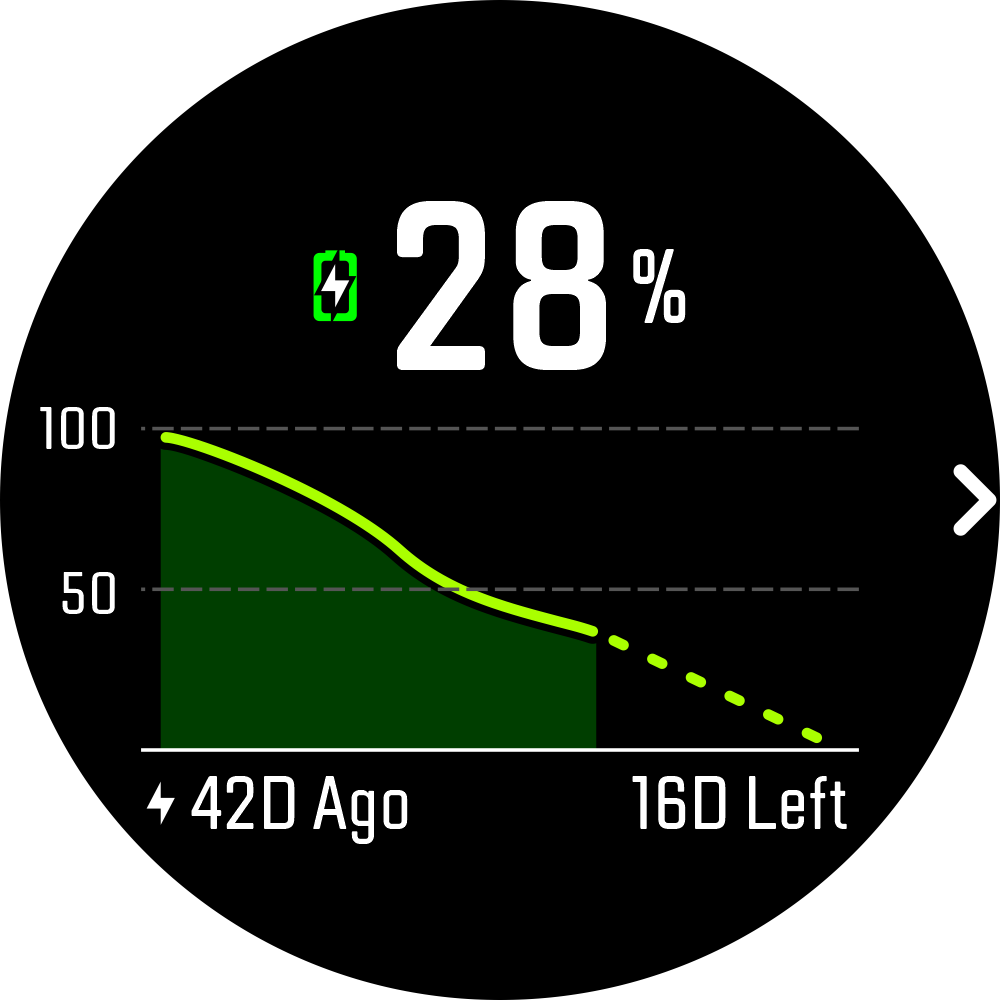 To view a more in-depth breakdown of the battery usage statistics, press the digital dial.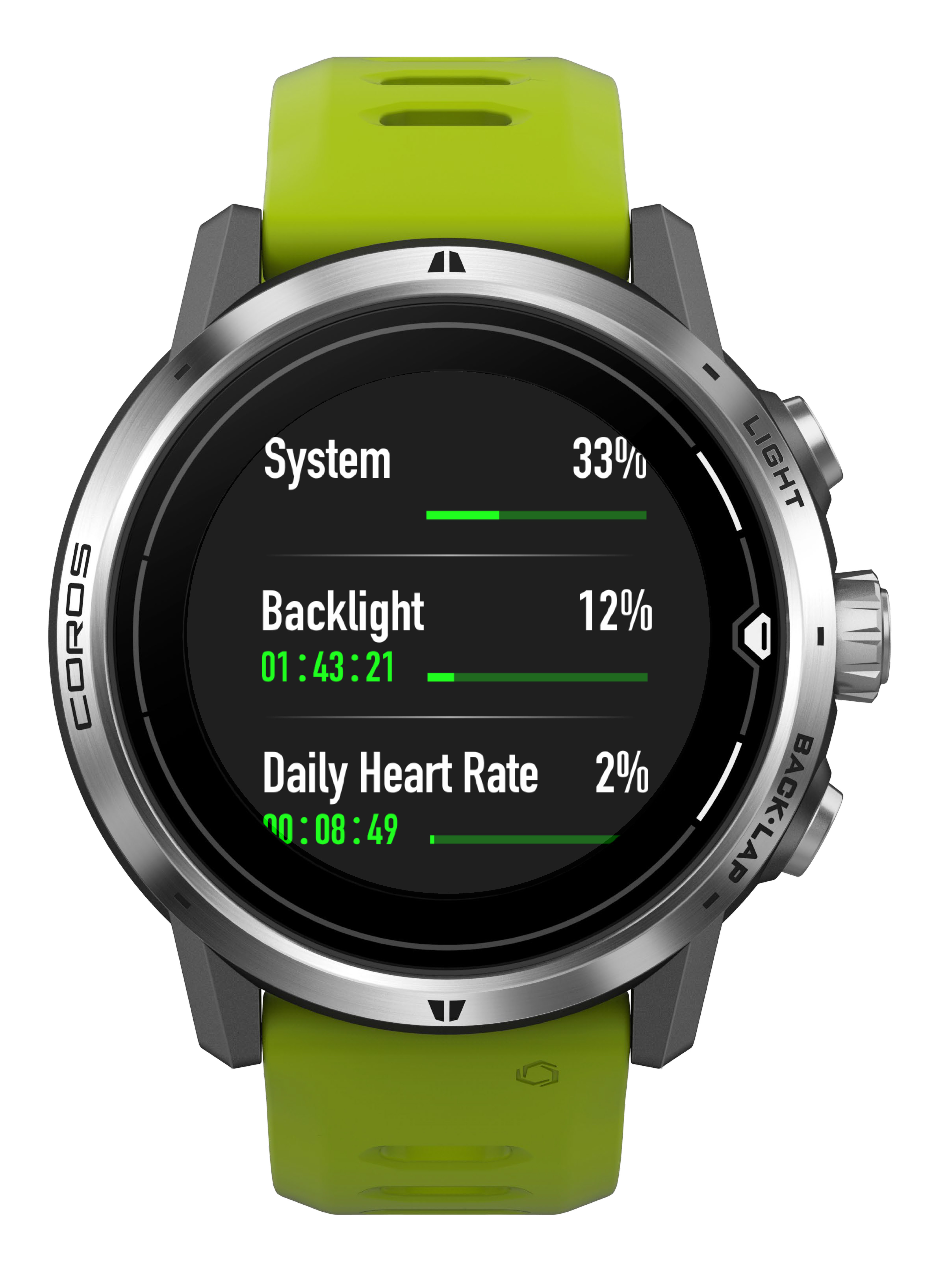 From this screen you can see the following metrics: Remaining Power, Estimated Daily Use Left, Estimated Max Daily Use Left, Estimated GPS Use Left, Last Charge, Since Last Charge. You will also find the most common features which cause battery drain here, and what percent of your recent battery drain can be attributed to these common features. Below is an explanation of each of the common features which consume battery:
System - Normal operating activities. Any type of regular maintenance on the watch or features that are vital to maintaining a functional watch (i.e. keeping the clock up-to-date) will fall within the "System" category

Notifications - Any notifications which are pushed to your watch, both for workout alerts (lap alerts, etc.) and daily notifications (calls, text messages, etc). This is displayed as a number rather than being included in the overall percentage estimate.

GPS Workouts - Any activity recorded which uses GPS signals to measure and record distance, etc.
Backlight - Any power used to illuminate your watch screen. The more you use your backlight (Night Mode, Backlight Gesture, etc.), the higher this percentage is likely to be.
Daily Heart Rate - Measurements taken that consume battery to provide daily heart rate data. You have the ability to specify this to "Real-Time" or "Every 10min"
Please keep in mind that when these measurements are shown as a percentage, they will also add up to ~100% (excluding rounding instances). This means that, theoretically, if you charged your watch within the last 10 minutes, your "System" use could equal 100% if you have not received notifications, used the backlight, etc. This is completely normal to see.
It's also important to highlight that this tool is an estimator and should not be used as absolute truth. If your battery usage report shows an error such as "Since Last Charge: 3 Days", when in reality you had charged 14 days ago, please ensure all activities are uploaded from your watch to the COROS app, then perform a reset of your watch.
Hold the back button to open the Toolbox -> System -> More Settings -> Reset All
Battery Optimizations
To prolong the battery life on your COROS watch, there are a few things settings you will want to keep an eye on. To maximize battery life, you will want to minimize the number of times in daily use that your watch records your heart rate, turns on the backlight, and receives notifications. The frequency in which you choose to use these features makes a big impact on how long your battery will last, here are the settings which will give you the most battery life:
System -> Sensors -> Optical HR -> Daily HR -> Every 10 min.
System -> More Settings -> Backlight -> OFF
Open the COROS app -> Profile Page (4th tab at the bottom) -> Notifications -> Off (or select the few options which are most vital)
Other Frequent Causes of Battery Drain
In the real world, battery performance is by a variety of factors. Things like the strength of your GPS signal or setting up your watch can impact the amount of battery the watch is using.
Activity alerts and vibrations can consume a significant amount of battery, and the more frequent these are the more of an impact they have on battery life. To maximize battery life, try reducing the number of vibrating alerts you get throughout your run/workouts to as few as possible. In addition, each alert during workouts turns on the backlight for a few seconds, which also will greatly reduce overall battery life.
Using navigation features also consumes an additional ~10% battery from your watch as compared to normal GPS use. If navigation is being used, but you only scroll to the navigation page periodically, this will most likely put your battery performance back to the normal range as compared to viewing the navigation page for the entirety of your workout.
For more resources regarding battery on your COROS watch, please visit the support pages below:

Battery Consumption of Features/Accessories