Activity Modes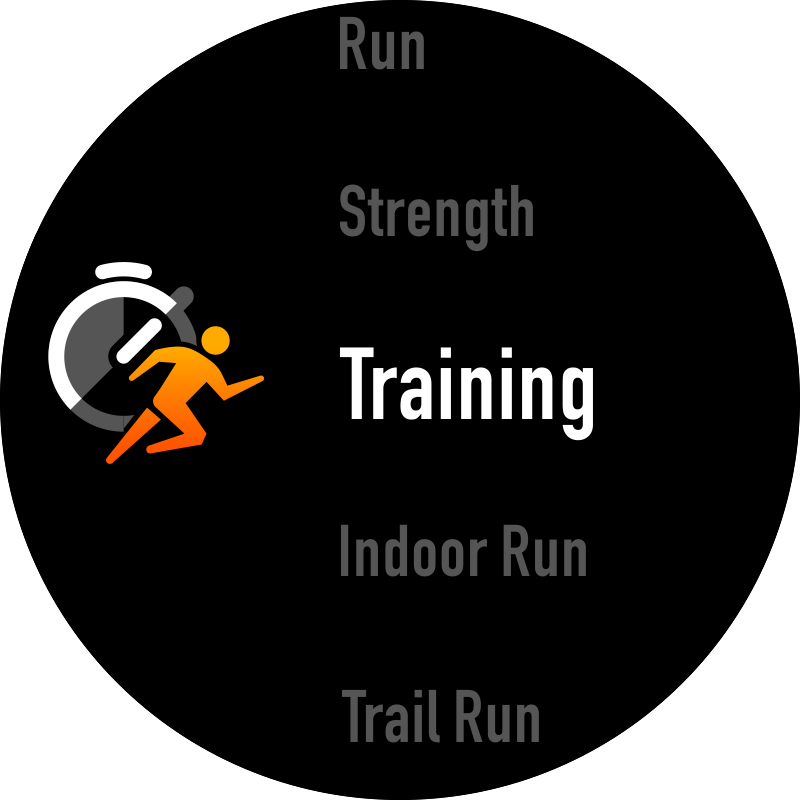 Advanced Running Metrics

Running Power (provided directly from all COROS watches)
Power is the rate of effort used in running. Running uses more power than walking if the distance remains the same because the duration is shorter and speed increased. The power calculation is related to weight, speed, and other metrics. Running uphill with the same pace requires more power than running flat. Power data can help evaluate real-time workout intensity. Running power is a great tool to measure your training in addition to heart rate and other metrics.
Form Power
The amount of power wasted due to inefficiencies in your running form. The lower this number, the better and more efficient the runner. This is similar to the previous Running Efficiency metrics (now removed) in terms of running form insights.

Available only in the post-workout analysis when paired with COROS POD.

Ground Time
Excellent: <210ms
Better: 210-240ms
Good: 240-270ms
Average: 270-300ms
Poor: >300ms

Ground time measures the amount of time each of your feet are in contact with the ground. Advanced runners tend to have shorter ground time. Elite runners' ground time can be as low as 180ms.
Left/Right Balance
Orange: >L 51.5 Far more time on left foot
Yellow: L 50.6-L 51.5 Slightly longer time on left foot
Green: L 50.5—R 50.5 Good left/right foot balance
Yellow: R 50.6-R 51.5 Slightly longer time on right foot
Orange: >R 51.5 Far more time on right foot

L/R balance measures the percentage of ground time spent on each foot. Track running and trail running may cause the reading to drift away from the desired green zone. If the reading exceeds 55, your risk of injury may increase.

Stride Ratio
Excellent: <6%
Better: 6-8%
Good: 8-10%
Average: 10-12%
Poor: >12%

Stride ratio can help measure running efficiency. It is the ratio of stride height to stride length. When stride length is longer and stride height is lower, the amount of energy wasted going up and down is reduced and the running is considered more efficient. The stride ratio for advanced running form can be lower than 6%.
Stride Height
Excellent: <5cm or <2in
Better: 5-8cm or 2-3.2in
Good: 8-12cm or 3.2-4.7in
Average: 12-15cm or 4.7-5.9in
Poor: >15cm or > 6in

Stride height is the amount your body bounces vertically with each step. Lower stride height indicates that less energy is wasted bouncing up and down. Fatigue and incorrect running form may cause higher stride height.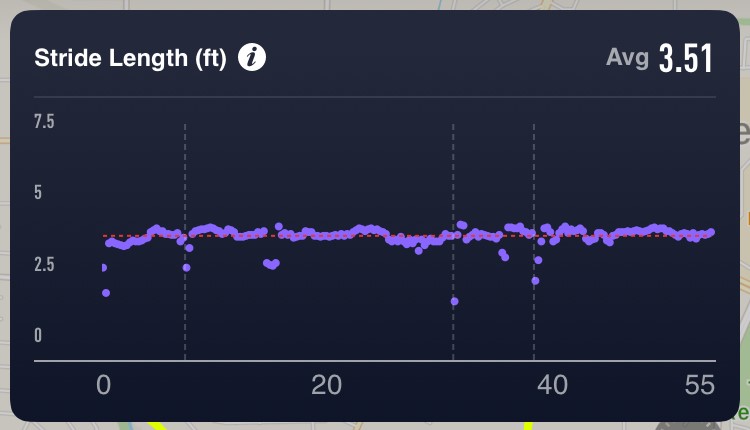 Stride Length
Stride length measures the distance from heel to heel when you take two steps. It is an important factor to evaluate running form and techniques. On average, an adult's stride length is 65 cm / 2.13 ft during walking and between 90-150 cm / 2.95-4.92 ft when running. Many runners overstride believing this will increase the speed. However, this will increase the risk of injury on muscles and knees. It is critical to find the stride length that suits you the best for training and races with the help of advanced running metrics from the COROS POD.
Background Color
To change the background color on your COROS watch (during workouts), hold the BACK/LAP button to open the Toolbox → System → Workout Interface → Background Color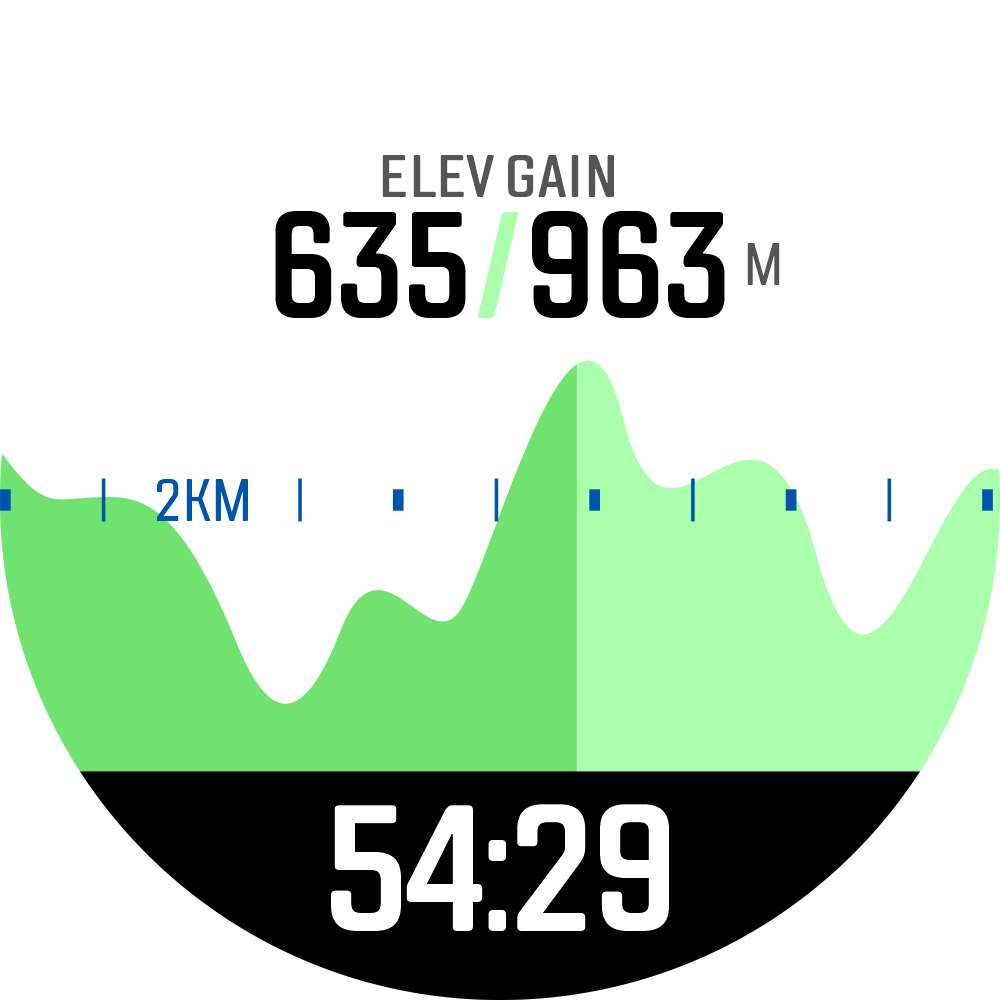 Customize Workout Data Pages
To customize data pages on your COROS watch, please follow the steps below:
Open the COROS app and navigate to the Profile page (4th tab on the bottom) and tap on the watch icon.

Select "Activity Data Screens" under the device which you wish to customize.

Next, choose the workout mode that you wish to customize from the library of activities. You can customize the data fields which are displayed during your workouts to be specific to each workout.

For example, if running around your neighborhood or on a track, you may not care about elevation or vertical gain/loss, but you may want to see this data while doing a "Trail Run".

You can customize up to six different pages with multiple data fields to curate the specific data that you need during a workout. Dependent upon your watch model and activity mode, there are different data fields for you to choose from. Open the Customize Workout Data option in the COROS app to view these fields.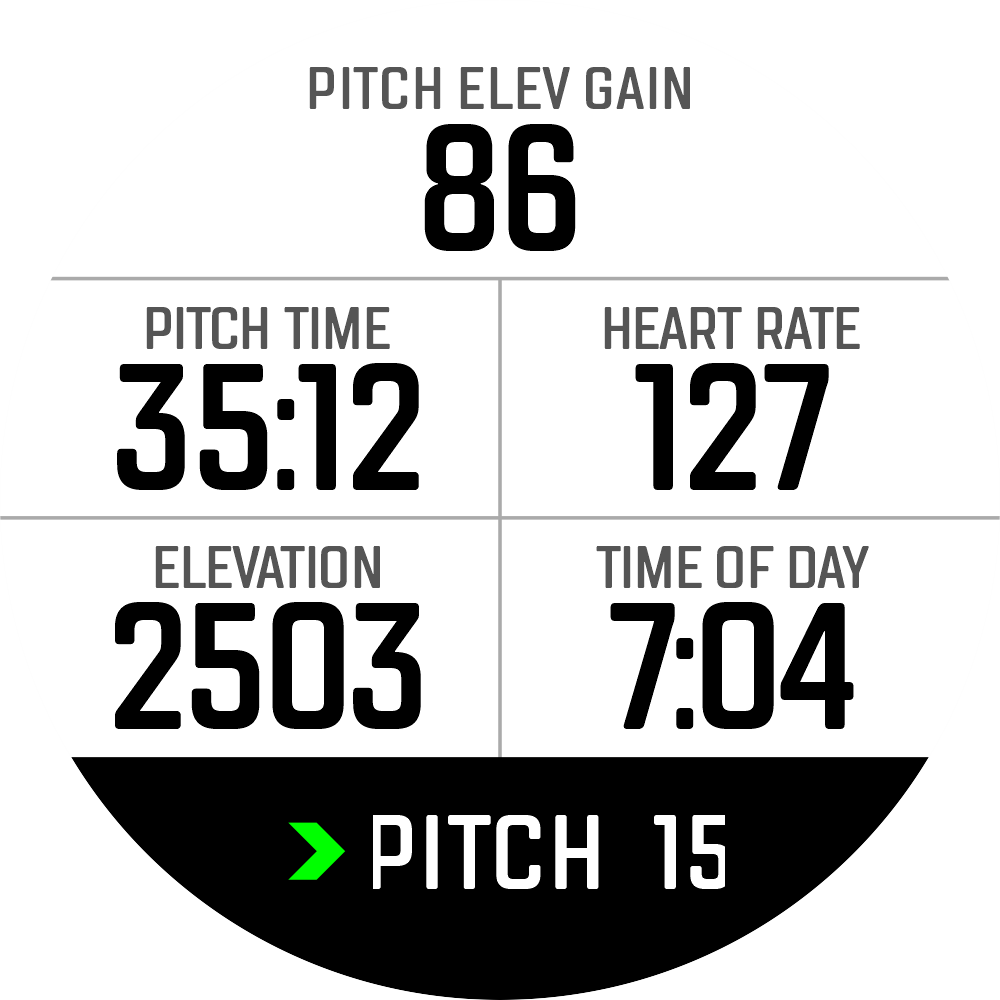 Manually Sending Data to 3rd Party Sites
Open the selected file on the COROS app

Choose the arrow in the upper right-hand corner, then select "Export Data"

Choose ".FIT" file, then use email, AirDrop, etc. to send the file from your phone to a computer

Log in to the 3rd party application (using Strava as an example) on desktop, select "Upload Activity"

Choose "File" do upload the ".FIT" file from the COROS app to upload
Navigation and Routes
Back-to-start, Checkpoints, Elevation Details, Hybrid Map Layer, Landscape Map Layer, Topo Map Layer, Deviate Course Alert, Touchscreen-enabled Breadcrumb Navigation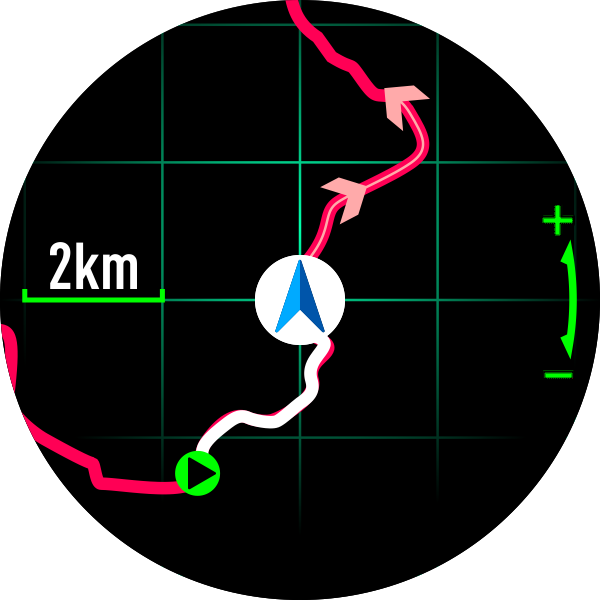 Notifications During Workouts
To enable notifications during workouts, please follow the steps below:
Main watch face → System → Workout Interface → Msg. & Call Alerts → ON

You can't expand or manage the notifications during workouts.
NOTE: Receiving notifications increases the battery consumption on your COROS watch.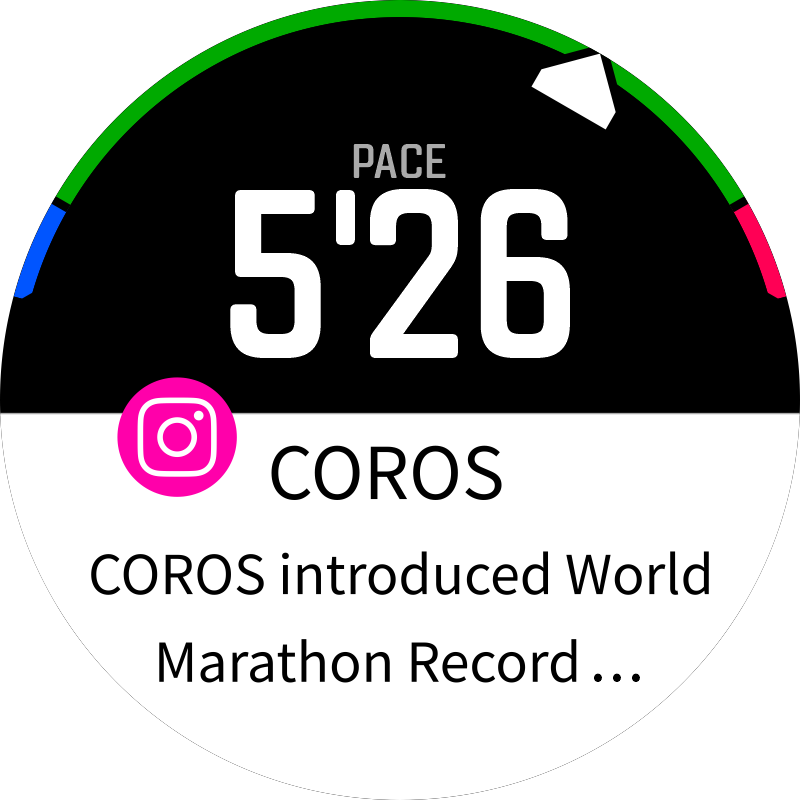 Resume Later
During select activity modes (Bike, Trail Run, Mtn Climb and Hike) on COROS watches you have the option to use the "Resume Later" feature to help support Multi-Day activities and extend battery life on your watch.
To use this feature, start any of the mentioned activities as normal. Once you want to use the Resume Later option, with the watch unlocked, press the digital dial to pause the activity. Next, scroll to the "Resume Later" option. Press the digital dial once to confirm that you want to exit the activity using the resume later option.
To restart your activity, from the main watch face, press the digital dial. You will be prompted with the message "Resuming unfinished activity mode", press the digital dial to reopen the activity and resume.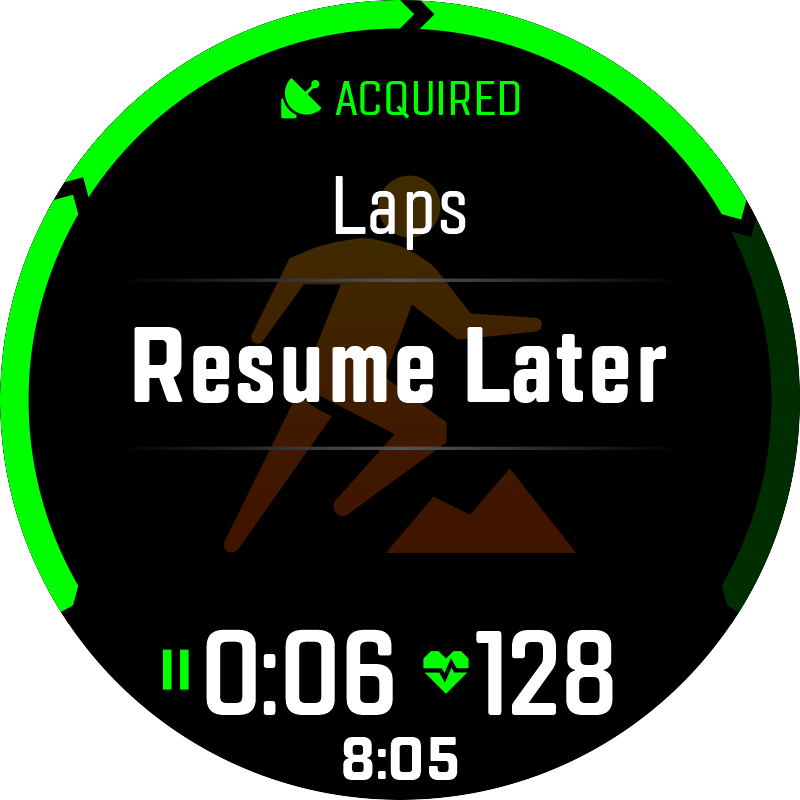 Route Syncing to Watch During an Activity
During the activity on your phone: COROS app → Profile → tap on watch icon → My Routes → Select Route → Sync with your watch
During the activity on your watch: Press and hold the BACK/LAP button → Navigation → Select Courses → Choose the route → Start Course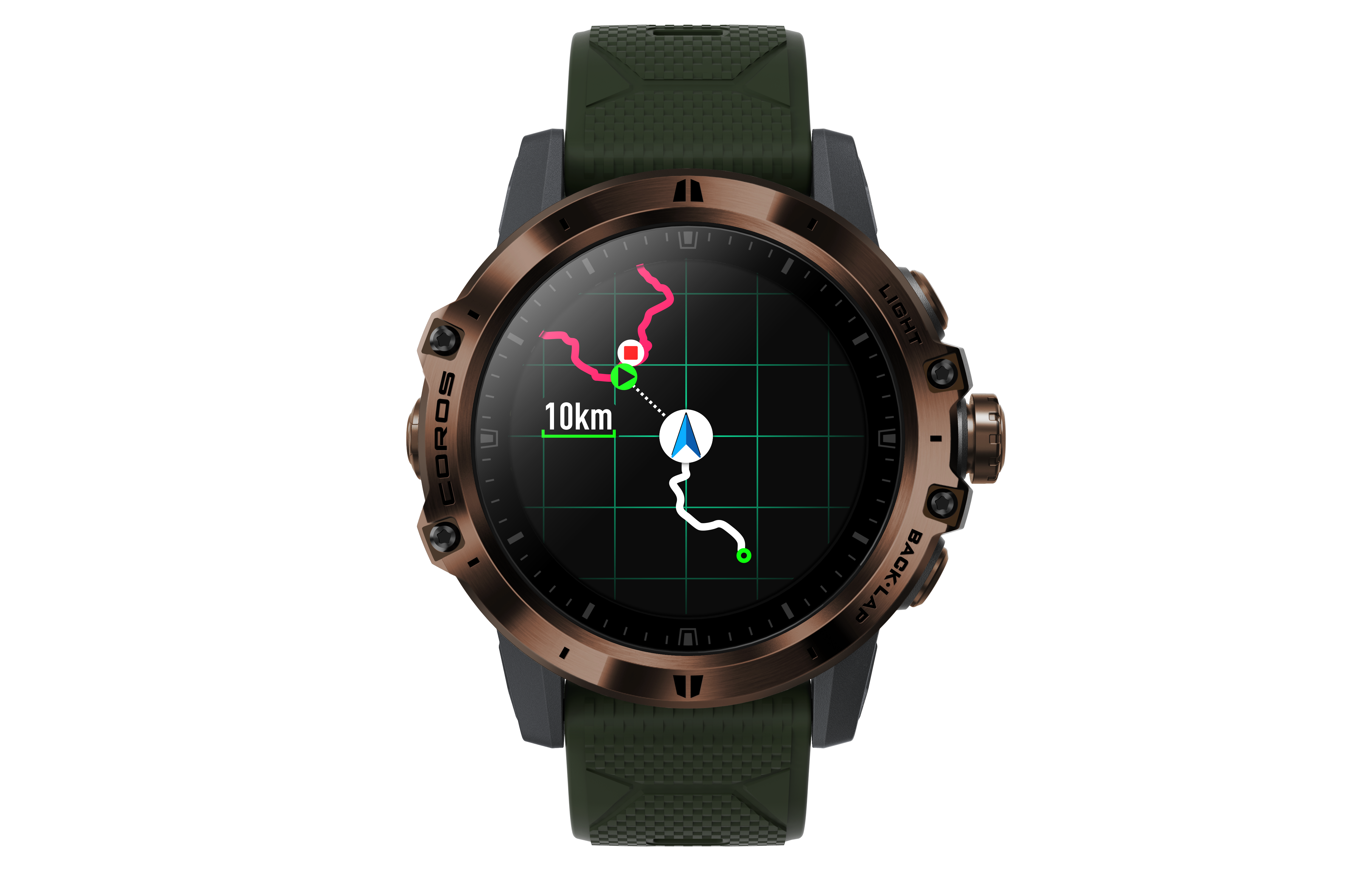 Scrolling Options
Auto-Scroll
Select to automatically scroll the data pages at a certain interval (not available when displaying the navigation pages).

2 | 4 | 6 | 8 | 10s | OFF
Touch Scroll
Select to swipe up and down to change data pages without unlocking the screen.

ON | OFF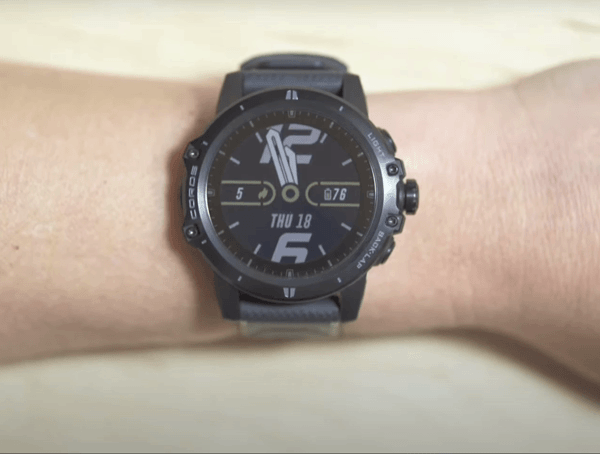 Syncing Data with the COROS App
After a workout is finished, the watch will sync data automatically to your COROS account on your phone if Bluetooth connection is established. If you don't see the updated data on the COROS app, please tap on the Today page, pull down, and release the page until the top section shows syncing progress.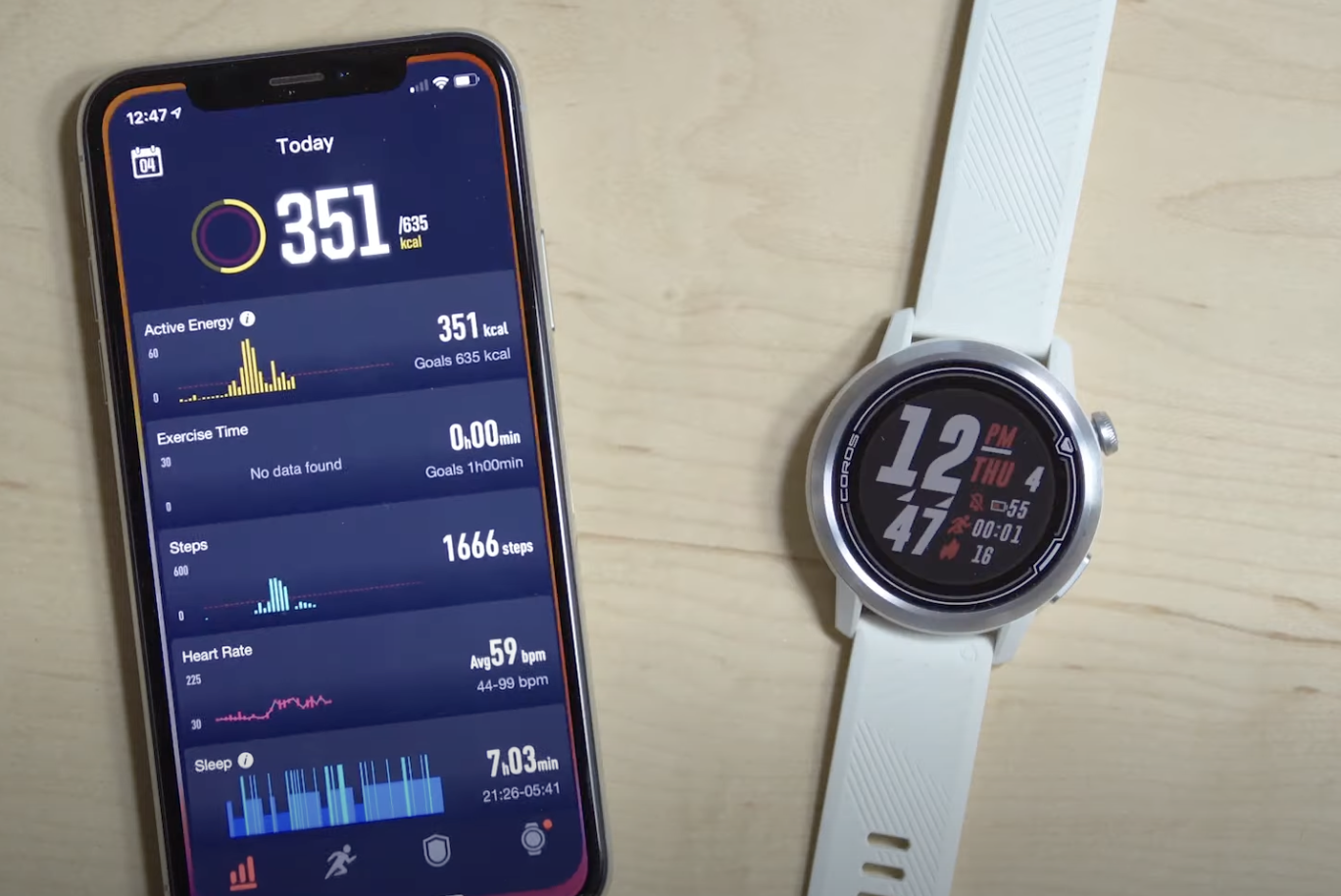 Using Different GPS Modes
The VERTIX 2 has three different Satellite Settings to fit different scenarios.
Standard GPS Only (140h battery life)

Recommended for multi-day activities or when charging between 140 hours of GPS use is not possible

All Systems On (90h battery life)

Recommended daily use setting

All Systems+Dual FREQ On (50h battery life)

Recommended for technical climbing or environments that pose the highest degree of difficulty for GPS signals (near cliffs, in canyons, heavily forested areas, or dense urban environments)